LOOKING FOR A PLACE THAT IS ALL ABOUT BAMBINO 밤비노? 
(AND KPOP SEXY COVER DANCERS?)
RIGHT HERE IT IS….
밤비노에 대한 모든것과 최고의 케이팝 커바댄스팀을 찾으시나요? 다른곳을 찾을 필요가 없읍니다. 
바로 여기에 알고싶은것이 다 있읍니다.
October 14, 2019
DAMN: SHE'S BACK WITH HER BAMBINO STYLE!!!
FORMER BAMBINO SUPERSTAR DAHEE UNLOADS A BRAND NEW THANG!
She changed everythang in Cover in one single performance in 2016 at 명지전문대학교 [직캠 & back then, like the rest of Bambino, shook Idols (I-Dulls) around KPOP who knew they had some stunning hot new competition cuming at them from the ranks of the lowly Cover world.
A cult has formed around Dahee, even though she has not done any serious Sexy Cover Dancing for almost three years.  "She is powerful & there were nights when she just played with audiences & made them crazee.  She connected with them like no one else with her funny faces & hot moves."
The cockiest Bino, the one with the leg raises that left you without your breath; the woman who took cameras & made goofy faces; the one with unbelievably hot body that left even Dan Shabet's Serri slumped & humbled; that Bino helped lead the charge against the I-Dulls is back trying to do it again!
Dahee is the third Bambino to return this year & so far Dahee's return is shaking everybody because unlike Hadam & Eunsol, she is coming back with her Bambino mojo!
Dahee may never have another "Myongji performance," but she sure AF is back strong & may earn a Top 10 ranking all by herself!  It's that Bambino magic.
She even throws in her patented high leg raise, the move imitated but never duplicated.  In her Cover of Hyolin it is all about hot sexy dancing & her unique look that has always made her an iconic lust.
Dahee's dancing is even sexier & better than before!  After 3 years doing odd thangs in funky Sanchoon, this is the REAL Dahee!
In her Normani cover video she spends the first 30 seconds re-establishing her amazing ("crazee" hot) body.  Dahee is so fucking toned & hot.  She is the stud of Bambino.
In an outfit reminiscent of Moonlight Shadow (but with "2019″ on the front) she wears a pink & white t- that shows her choreo is just as sharp as before.
So where are the views for Dahee??!!!??
Oh, it's Seoul Auto season.  They must be here!
The "old Binos" are learning that Sexy Cover has gone waaaaay beyond where they took it.  These girls are fresher, younger, fiercer, sexier, tougher & bringing some new thangs into the KPOP Sexy Concept ring with them. Even auto models are going "Cover" now.
But there is for sure plenty of room for Dahee because she is a cult hero.
October 11, 2019
MAY QUEEN HITTING HOME RUNS
레이샤 고은이 춤을 너무 잘 가르치기때문에 나머지 레이샤 그룹들 춤을 더 잘추게 만들까요?
I luv statement dances. The ones where groups realize they have "IT" & are ready to bust & show the fans, critics, festival agents & even their rivals that they are going to get the attention.
May Queen – the BIG  Bodies of Sexy Cover – are almost there.  They are going to bust one up & out very, very soon.  
For Laysha fans who miss Hyeri, check out MQ's young star Hayoung!  She was also trained by GoEun, the best Sexy Cover Dancer & teacher in KPOP.
They have that "look" now.  Their bodies are about as fine as I have ever seen in a Cover group that is going for body sculpture that is thicck but unbelievably hot.  There is a lot of the Great Teacher GoEun going on with this team.
Of course GoEun is by herself a style & a "look."
May Queen went from a Totally Slutty Concept to Slutty Elite.  And it is a very, very hot look for fans – and of course a fantasy for BodhiCat Talk. (They are NOT sluts. It's what they want to project! OK?)
(We just wish they'd enjoy it a little more.)
SOME QUICKKIE THICKKIE SHOUTOUTS
To dat fat Faux Ho' Cover Wanna Be Jessi.
Jessi: nice job on the pole….
No. Not really. 
We really do want to give her shout. At BodhiCat Talk we give it when it's due.
So we give her credit for standing up for Hyuna when those netizen assholes said Hyuna was "ugly."  We have a lot of issues with I-Dulls & their nasty attitudes toward Cover.  Like they steal their style & let fans slam them.  But Hyuna is not like that.  She is a lot of things – but one of them is SURE AF NOT ugly.  She is super talented, can compete like a Cover queen in water & is rich, rich, rich!  She's a winner.
And Jessi stood up for her.  So we'll take it easy on you for long while.  
SHOUTOUT TO MORE THICKKIES
Is it Cover? Yes. And we hope our Cover queens, like May Queen for starters, do one of these live as part of their solos.
Nice use of the chair
It isn't lost on Cover's best who also knows how to show a chair a good time!
October 3, 2019
LIKE THE FIRST TIME HITS A SWITCH THANKS TO A HOT NEW GAYOUNG
(WHO NEARLY BUSTED HER THIGH GARTER!!!)
Yeah, she's that good.  She's the one they're talking about all of a sudden! And those thighs!! Oh my my….
BodhiCat Talk readers:
Please remember the Cheongwun Life Festival 2019.  It was the night a new star was born, a dance group moved into our Top 10 rankings & we almost saw Fap History being made.
A woman with maybe the #1 Body of the Year did some booty work in jeans short that blew our wads.  (And amazing the pants were not even that tight!  When she puts on the tight spandex shorts ya'll watch out. Fap Festival ahead.)
But all we could look at were her thighs because we were betting that she was could be the first KPOP dancer EVER to bust her thigh garter on stage.
She has the name of a famous Switch star we stanned endlessly but THIS Gayoung's thighs are her own.  And they are just jaw-dropping!!
  She's going to be the first girl to break her thigh garter with one mighty twerk & flex.  And we'd like to see it.  
It won't be Hani or even Shasa.  Their thighs are too skinny.  Gayoung is new boss of thighs.
Like the First Time's Gayoung has put on a series of performances that show fans the thang that makes her fancams sizzle, an amazing body rocking on high heels with thighs that slay!  Her booty work is also in the big leagues.
And elsewhere in Seoul tonight someone is thinking:
"Shoot BodhiCat, that's nuthin'.  I coulda busted my thigh garter onstage any time I wanted. You never asked me to!"
October 1, 2019
 "BAMBINO" RETURNS!
Fall 2019 just got even better – if that is possible.
First there was the Bambino mini-reunion.
The recent Bambino "mini-reunion." Rampage boys included but sans Hadam.
This has stirred a few rumors about them dancing together again, which Eunsol kind of did with a cameo appearance with Dahee's funky group.
But what would Bambino 3.0 be if Hadam was not in it? And it does not look like she will be since the rift she had with Dahee & Eunsol seems permanent.  
But if you are still Bambino strung out & hungover, like we are, do not worry.
THERE IS SOOOOO MUCH SEXY ACTION IN COVER RIGHT NOW!
INCLUDING "MOONLIGHT SHOWER" COVERS!
When we heard the first chords of this song our hearts fluttered.  And when the Anyang Street Culture Festival fancam went HERE & we read the word 'Bambino," we lost our breath.  For real.
Hadam look-alike Kyung Eun nails "Moonlight Shower," the bop that should have pushed Bambino toward massive star status.  But we have our eye on HER now!  This nugu rocks it & she has Hadam fans in mind.
AND SOME NEW BLOOD THAT ADMIRES BAMBINO
ROOKIE OF THE YEAR SAYS BAMBINO HER FAVE

If you want to be the best, admire the best.  When we asked our Rookie of the Year, Black Bunny baby Hana who her fave group was (after BB of course), she said it was a tough question but she really liked Bambino the best.
For sure Hana has a little of Hadam in her & she promised that Black Bunny will get even more aggressive with their fan service from now on!!
September 28, 2019
GIRL CRUSH CANCELS GIG DUE TO "SAFETY CONCERNS" & THEN DRESSES TO HURT!!
Bomi is looking for a YouTube video editor, presumably to rake in the cash for her popularity and the millions of future views she will get.
The group had to cancel a performance this past week due to "safety reasons," according to their management. We asked in Korean what was going on.  It isn't like Girl Crush crowds are so wild lately that Security cannot deal with them rushing the stage, although there is a ton of "Bomi Lust" going on at BodhiCat Talk!  
There will be a lot more when people start watching these performances from Friday night!! 
The #1 group looked like it Friday night smoking a Stellar cover & others.  Zia continues to solidify her reputation as one of the top 3 leaders of groups in Cover, right behind GoEun & Shasa.  And their new trainer & body sculpture should get a raise. Girl Crush is tongue-dragging built like few groups we've ever seen!!
The #1 team looked buffed, much hotter than Dal Shabet, Stellar or EXID & in top Sexy Cover form.  No one wears these kinds outfits better. 
Bomi, Taeri & Zia look fresh, rested & ready to slay.  Bomi put on another classic of Swalla – a song she owns.
Bomi is doing to songs what Bambino used to do – make them totally hers!
(But where was Yona?)
LAYSHA 2.0?
Is it BodhiCat or does Hayoung look a little bit like Hyeri with an even nicer body?!  Watch MQ performing at  가톨릭상지대 
(BodhiCat Talk note: May Queen's Hayoung has stopped looking like the actress who sleeps with the Director on the promise of stardom.  She is slowly but surely starting to show us fan service – and acting like the goddman star she is becuming!  She's off the casting couch…..)
Some of you have asked why the applause was decent but not explosive.  Probably because May Queen performed at Sangji Catholic College!  (가톨릭상지대)  Even if they did like it they feel too guilty to admit it.
Holy smokes! Looking a lot like Laysha.  They tempted the audience at Sangji. Will they tempt BodhiCat Talk into ranking them #1 or in the top 5??
BodhiCat Talk has been stanning May Queen for a long, long, long time.   We think THIS is their time!
Here is what we said about them (& other thcckies) recently:
Can They Become KPOP Cover's Sexiest Thickkies Ever?? – Kpop에 속함 모든 카바댄서들에게 메세지를 전합니다…. 여러분 그룹이 인기가 있던 없던 그리고 유명한 그룹이든 새로 시작한 무명그룹이든 모두에게 "감사합니다!
September 24, 2019
YOU CAN TAKE THE GIRL OUT OF LAYSHA BUT…..
레이샤 (초임 ) 홧팅
Once upon a time there was this new group with a Sexy Concept that pushed the edges of KPOP as never before. 
They were called "Laysha." They were followed by Bambino but Laysha was first.
And any chick in this group was not only beautiful, incredibly well-built; they could also rock a stage & keep an audience craving for them for an entire concert. 
This was a whole new kind of entertainment for KPOP fans.
One of the original members of Laysha was Hanchoim 초임 ("Choim." )
She was a heart-stopping short haired blonde who stomped & was mesmerizing & sometimes even a little raw. 
She could dance as good as Hadam, then the new leader of Bambino.
Choim was classic early Cover & helped define it for KPOP.  She could do it all.
As time went on Choim, who came from money & had no worries about it went out on her own.  She joined another group, Rose Mass, where her covers of "EXID" were legendary.
She did independent work & at Wonju Military nailed a performance with a military band that is unique to this day.
She teamed up with former Laysha teammate Yubin (a beauty of epic proportion) & formed Camila. 
That ended suddenly & we thought we might not see Choim again.
But this week we saw what a genius she is & what her money can do.
With a new group, Romeo, Choim in massively heart-attack sudden death killer boots blew up the pre-season rankings for Cover teams with a thrilling set of performances with some white girls from LA, where she had gone to study & build her career.
The Romeo material is a hybrid between the beauty & elegance of an Idol & the sexy, fierce heat of Cover Dancer.
….you can't take the Laysha out of the girl.
Choim has immediately vaulted her new team into contention for the Top 10!
완전 멋있어요!!!
Beware: Laysha inside!!  Romeo's Hanchoim pops her top Laysha style.  Ohhhhhhh those boots, Choim bae!!
BOMI & SEIHEE: FRIENDS TURNED INTO RIVALS?
While Choim was getting attention, the two Super Groups kept pleasing fans & had their eye on each other!
This year's soap opera is whether Seihee & Bomi are still friends.  Of course Seihee mysteriously left Girl Crush when they reached #1 & jumped to Laysha. 
Why?
Bomi did not seem concerned even though the two were a super duo.
Both were the Body of the Year & fought for stardom in the group.  (Bomi won that battle hands down.)
So now that the two are #1 and #2 do they hate each other?
Or is it just business & nothing personal?
Last year they were the power couple of Cover.  Now they are on opposite teams!
Yona 요나 stepped in & is becoming a star on her own.  She is the surprise team member so far & many say doing much better than Seihee.
As for Seihee?  We missed her but she missed her chance with Girl Crush.  She is trying to revive a group that might not ever be as great again.
But the last few performances by Seihee in what looks like a revitalized Laysha have been sleek & show us what Seihee is capable of when she is focused – which ain't always the case!
"Seihee is Laysha's problem now," said Park Cheol.  "She is a sour diva.  But Laysha is Laysha & they are still thought of as the BIG TIME & the best in Cover.  But Yona is capturing a lot of hearts even though most people don't think of Girl Crush as #1, even though they are."
September 22, 2019
OOOOPS…..SORRY
In our post from September 18 on why the great groups do the Military – to test their ability to slay hard – we left out the gutsiest Sexy Dance performance ever & the one that earned them our forever luv & respect:
Sorry about that Stellar
This one still gives me a warm feeling & not only because there's water involved, Joonyul looks, OMG, so amazing & they just keep going on a wet stage in a downpour 'cause they know the solider boys & girls would do it for them in BIGGER WAY!
September 20, 2019
BOREUM HITTING STRIDE COULD HELP LAYSHA GET VERY HOT
The rookie Boreum did a solo to the roaring fanboys & girls & then got some "Pharkil treatment" last night.
She looked edible & like she was fitting in w/GoEun & the new power team of Laysha.
Watching her closely (very) we could see the potential for an explosive Laysha-style queen emerge – and one that can distract us from the other "new blood" boiling hot at the elite level these days: Yona of GC & of course Hana of Black Bunny.  
Laysha is desperate & needs to replace Som (as much as Som can EVER be replaced.)  Boreum has that sexy "look" ya'll & so keeping us watching.
September 18, 2019
THANK YOU YEONJI!!
A fancam titled, "Do You Want Us To Take Our Jackets Off" went over 1.1 million views thanks to Yeonji's silver streaked outline of the most amazing hip & booty in KPOP.  And her sexy/slinky/friendly style of dancing which is really a Pocket Girl trait.
Damn girl.  Wow!
Last year's #5 ranked team, Pocket Girls, is the most steady team in Cover.  But seriously, where do they get those booties from??
Amazon does not & cannot deliver them!
Call me Yeonji.
One of her assets is that Pocket Girls is GREAT with military audiences. 
Maybe #1 of all the current teams.
This raises a BodhiCat Talk question:
 보미가 "새로운 은솔" 이라고 사람들이 말하는게 맞는지요?
IF SO……
WHY DOESN'T GIRL CRUSH DO MILITARY??
Whenever people ask if GC is the next Bambino or if they can cross the line with their semi-bop "Memorie," & go all I-Dull & shit, I say: watch THIS concert:
The cadets do a Bambino song chant to "Oppa Oppa" during what is Eunsol's best performance ever with Bambino. Strangely there is not one fancam of Hadam for this amazing performance.  And we know that she was whipping up the crowd as much as if not more than Eunsol. Why isn't Hadam in a fancam from Wonju Military??!! Does anybody have one????
You can see Hadam (as a redhead!) for a little time in this clip.  Her body was tight & muscular perfect & she was ready to bayonet a soldier kid with it! But this was Eunsol's moment & suddenly people started to talk about her all over Korea. 
Girl Crush has NEVER had a military audience or a moment like this with a crowd.  
Military audiences separate the women from the girls ya'll.
And critics just luv a girl dancing for her country!
At 2:09 a reaction says it all.
The great groups of Cover & I-Dulls do military.  Pocket Girls covers in front of military are always exciting.
EXID has the most fun & of course no group did it like Bambino which went all out – full tilt army tank armor hard bitches.
So Bomi you had best think of it.  There are a few mountains you haven't climbed. 
This is one of them.
THCCKIES MAY QUEEN GETTING READY TO SLAY HARD WITH THOSE BIG BODIES
Can They Become KPOP Cover's Sexiest Thickkies Ever?? – Kpop에 속함 모든 카바댄서들에게 메세지를 전합니다…. 여러분 그룹이 인기가 있던 없던 그리고 유명한 그룹이든 새로 시작한 무명그룹이든 모두에게 "감사합니다!
September 13, 2019
EUNSOL "JUST BLOW!!"
STILL A BAMBINO FOR SURE
PROVES SHE IS STILL AMAZING WITH CHARISMA
The Fancam Goddess brought it all back. Oh my my my my my…….
This week we buzzed about the semi-Bambino reunion.  It took place close to the anniversary of the group starting up in 2014.
Eunsol, Dahee & Minhee got together to hang, just like Stellar did recently too. (Hadam, predictably, was a no-show.)
They reminded BodhiCat Talk of the "old days" when Bambino invented Cover Dance Sexy Concept style.  
But then….
…..to prove they can still make us want them more – Eunsol DANCED with Dahee's new group (or at least came onto the stage) & rumors started to fly. 
A few days later on her channel Eunsol did a sexy dance with a boob bounce that has our tongues dragging.  I say the magic is still there! 
Now what??
SPEAKING OF BLOW! 
SOLAR GOES "COVER"
They used to slut-shame Eunsol for less.
So don't be slut-shaming Eunsol again or any of our Cover Queens like Shasa or Ati you I-Dull luvin' bitches.
Because Mamamoo's Solar went full on "Cover" & did this at the Four Season concert this Spring:
If Solar ain't "Cover" nothing is.  She soooo has been studying Shasa & the other "Cover Shock Queens."  Now you know. Cover has influence.
IF YOU STILL LIKE LAYSHA THEN…..
Taetanic is one of our fave video editors.  He did the ultimate of Gayoung (his bias) & has a special luv for GoEun & Stellar. 
Just like BodhiCat Talk. 
Watch this one – if you haven't fapped to it – for the GoEun segments.  They are the best.
Tell us she isn't the most charismatic Sexy Dancer evahhhhr.
Good news for Laysha fans. 
BTW Laysha looked like they were slaying again on GoEun's Insta post. 
Watch out Girl Crush.  Laysha ain't out for the count yet!
UNIQUE VIEW OF BLACK BUNNY
Every BodhiCat Talk fan is waiting to see where Black Bunny will be ranked because Hana is EVERYBODY'S new bias.
While ya'll wait for those rankings here is our fancam of the week of the week of the hottest rookie team since Bambino performing from behind the stage. 
Great angle of those amazing Yeri legs & Hana's cute outfit.
Amazing Black Bunnies hoppin' for their fanboys!
HAPPY CHUSEOK TO OUR KOREAN READERS
Here's a post from last year's holiday.
September 7, 2019
BAMBINO 1.0 STARS SEEN TOGETHER & DANCING
하담이 왜 밤비노 그룹을 떠났는지 아세요?
Only Eunsol knows what's next for Bambino 1.0 fans.
Well, three of them were seen together. 
On Eunsol's Instagram today there are posts of Queen Eunsol (the Most Important Cover Dancer in History), Dahee (who changed everythang in Cover Dance with one move) & Minhee, the rocking hot maknae who made the group a super team, hanging together.
AND there was a video of Eunsol performing with Dahee's Sumchoon team. 
There is chatter & rumors & we are high. It was sooooo good to see them together.  Amazing.
What does it mean – and where the fuck is Hadam? 
Stay tuned.
BOMI GLORIFIED…..AGAIN
We wrote about Bomi  proving to us that she is the best. 
She said it herself right after the group's amazing Sichuan Aviation Polytech gig – one of the best ever. 
Now she is being idolized from a video taken that night.
It is great that we will always have this to remember one of Cover's most amazing performances of all time.  It's just too bad that Bambino's totally spectacular performance at Myongji was not given the same treatment by video editors. 
Hint. Hint.
September 5, 2019
HAPPY BIRTHDAY DAHEE!!!
Former Bambino superstar Dahee's b-day wasSeptember 4.  Happy Birthday to the leg-raising, game-changing, Cover Dance icon who was unlike any other woman who ever showed up on a festival stage, auditorium or club to perform.
How did we celebrate your birthday, Queen? 
 We watched the greatest fan service video in Cover Dance history from Seonam University of Medicine.
It healed us……if you don't count the fap strawberries!
This was another Bambino & KPOP first: over 5.5 million views to watch a glistening,fearless Dahee dish out all-you-can eat doses of delicious fan service.
More a victory lap than a performance, Dahee greets her worshippers at Seonam College.  Her new well-publicized tattoo was displayed proudly & got a lot of media attention.
So we raise a glass to the way you raised your leg during those amazing nights.
Everybody at BodhiCat Talk & KPOP wishes Dahee a happy life & now maybe a Bambino reunion.
Well maybe not everybody.
Serri of Dal Shabet admits she had a rivalry with Dahee after the two confronted one another at a performance. 
In her V-log she is criticizing KPOP for a lot of stuff, like allowing agencies to peddle sex too much & said "some groups & agencies went too far." 
Wonder who she meant??
소리 질러!!!
HANA OF BLACK BUNNY 'SPLAINS THAT STEAMY VIDEO FROM "INDIA"
Speaking of a very sexy concept, this video of KPOP Sexy Cover Rookie of the Year Hana of Black Bunny confused a lot of BodhiCat Talk readers.
Now we know where Hana was! That may be steam coming off that white hot rookie's body. Black Bunny does not do water pouring  but like Stellar at the famous Remix Party, they don't have to!
We asked ourselves "where is she?" 
There isn't a Korean face in the crowd.
So we thought she was on fire in India or maybe Malaysia or Indonesia. 
So we asked our new Rookie Queen & she responded directly in English to me. 
Turns out it was Korea.
She said, "It was in Hapcheon & cloudy & raining. A lot of foreigners came to see us."
Hana is the "other birthday girl" (Aug 11) & her team are rocketing toward the top of the rankings.
Hana admitted she had the crowd pretty worked up.
Fighting!! 홧팅
September 3, 2019
플윗미
소리 질러!!!
SHASA SNAPS! (OR DID SHE JUST GIVE A REAL LAP DANCE??)
COVER'S FIERCEST, FEARLESS ONE GOES WAY OVER THE LINE – AND FLY WITH ME TEAM CELEBRATES!
You can forget Hadam's infamous "commando" dance.  Up until now it was  Cover's most shocking, over the top, over-the-S-V-pussy-line performance. 
Move it to #2 & insert this:
Not so "faux." Blackpink ain't done this (yet.)  홧팅
Shasa of Fly with Me has finally had her "Dance." The one she will be known by.  It speaks for itself.  It is all flesh.  While BodhiCat Talk cannot cross our hearts & say it is really "Cover," it was performed by FWM, a highly-ranked, top of the shelf Cover group which even went one-on-one with Lisa of Blackpink in a battle video of their own (a first for any Cover group.) 
So there it is. It's in my face just like Dr. Boner's here.
Unlike Bambino, which tried to hide from their event, or Som who seemed to crack under the strain of being slut-shamed, Fly is promoting it aggressively & flaunting their success.  And fucking ay good on them for chugging champagne a day later & enjoying their fierce notorious reputations!
This BTW, after them coming off a set of dominatrix concept dances.  Something new for Cover's most creative group.
Fly is going hard into the Fall for a #1 ranking & Shasa their leader does not give one shit what you think about her.  BodhiCat Talk thinks a lot about her!!!
Fighting!! 홧팅
August 27, 2019
COVER PHOTO OF THE YEAR!
Laysha's fans & management may call her "Fly with Me's cheap version of Chaejin," but Way of FWM & subgroup Flora is chubby cute & a fan service turn on so far.  No, she is not Chaejin yet (but who is??)  This photo of her caught during a performance says it all.  She is showing us the Way.  It's our Photo of the Year – so far.
GOEUN DANCING LIKE A SEXY TIGER TO KEEP LAYSHA ON TOP
Speaking of Laysha….
They have been watching Girl Crush rock fans hard & enjoy the kind of success that they used to have until the shit went down.
And yeah, Bomi is soooo on top of GoEun as Cover's sexiest dancer. 
It might be a flashback for Chaejin & GoEun because GC is a lot like Bambino these days – including massive fan service where the queens are going off the stage & grabbing phones!!
They are confident, dominant & people just wait for Bomi's next moves like they used to do for Eunsol and GoEun.
Since May GoEun has been dancing harder & with more desperate intensity than ever. Is it enough to take over #1 again from now-mighty Girl Crush?
We STILL always wait for GoEun's next fancam because she is such a fierce, competitive tiger.  Her body is jaw-dropping.  And the Queen knows there is not much for her if Laysha disbands.
In this performance she gets us off & doing everythang in her power to get  her fanboys & fancammers to pay attention.  She is dancing with desperation & for GoEun that is a good thang.  She was born hungry.
And she's brilliant ya'll.
"She looks to me like she hates the talk about not being as good as Girl Crush & wants to get the new version of her group trained so she can rock KPOP again," said Park Cheol.
BODHICAT TALK'S NUGU TROLL PATROL
FUTURE FAPS
처음처럼
Not many new Cover groups hit 500,000 views in their first month & fewer get crowds so into them so soon.  Bambino comes to mind, of course.
Thanks to Pharkil & their obvious ability as Cover dancers, Something New (also called Like the First Time) is steamin' ya'll.
After some fancams that BodhiCat Talk readers say is very stylish & hot fthis polished Cover group came out again & looked hotter in jean shorts.  One member in particular has star written all over her.
And her name is GAYOUNG!!!   That smile, style & dancing ability!!  Gayoung wearing that garter belt around that strong, thcck thigh is working on me dudes!
Like the First Time could be a good time when it comes to Rankings time…..They are Something New!
August 21, 2019
하나의 타투에는 무엇이라고 써있나요?
OUR ROOKIE OF THE YEAR DOES A SIZZLNG VICTORY DANCE & TELLS BODHICAT TALK WHAT HER TATTOO REALLY SAYS
Anyone want to know what hot Hana's big thigh tattoo says? 
BodhiCat Talk wanted to  know & we found out directly from the source herself: Rookie of the Year Hana. Yes, she is in luv with your BodhiCat.
Slowly but surely Black Bunny's Hana is scoring points with everyone who follows KPOP Sexy Cover Dancing. She has legions of fans.
Hana's tattoo has become iconic.  It is unique. Sometimes you can see it & sometimes it's hidden from fancams because of her uniforms.  But it's always there on that sweet, hard-dancing, crowd pleasing bouncing thcck thigh of a dancer who is moving near the top of cover queens.
It says, "I am Hana and I am adorable." It also shows & describes her birth flower (which is also her favorite flower) cherry blossoms.🌸
You're welcome! 
SOM BREAKING RECORDS
Not only did she break our hearts with the news that she left Laysha due to "health reasons," our Iconic Cover Queens, Episode 4 post about the Lust Queen of Cover, Lady Som, is breaking viewer records.
Iconic Sexy Cover Dance Queens: Som 솜 – 이번 시리즈는 최고의 카버댄서들에 관한것입니다. 여지껏중 뽑힌 최고의 댄서들입니다! Episode 4
Everybody is reading what BodhiCat Talk said about Som.  Will she ever return?
Or is she another victim of KPOP agency mismanagement?
August 14, 2019
MAYQUEEN SAYS HAYEON IS "BEST DANCER"
BOMI DISAGREES…..
SO DO WE
(BUT SHE IS THE THCCKEST)
Whaaaat???!!!
Really?
I guess all the flattery from BodhiCat Talk readers & appearing in Laysha, where she was sexy AF but danced like she had glue in her shoes, gave her the idea that SHE is the best dancer in Cover. 
But she has to PROVE it.
Let's get it right: Hayeon is a BodhiCat Talk bias & our fave thcckk fantasy dancer.  But she is NOT the best dancer in Cover.
She might want to check with Bomi, who also claimed she was the "Best" and then backed it up – a few hundred times.
Or check with Hana of Black Bunny who just was named the Rookie of the Year by the Soju Surfers Club of California, the official body to examine the bodies of Cover & rank them.
But we are loving where MQ is going & the confidence!
SPEAKING OF THE BEST GROUP IN COVER IN 2019…..
Was this GC's best concert yet?
Write down the date May 16, 2019 & the Sichuan Aviation performance & hoya sama fancams of it.  It is their version of Myongji. (Myongji was the performance when Bambino blew up KPOP totally.  Their best.)
밤비노(BAMBINO) @명지전문대학교  Each of the Binos has a solo fancam of their cover of "New Thang" at Myongji EXCEPT EUNSOL.  Minhee's was posted last & has few views but is amazing. A search of Vendenge 벤뎅이 fancams of this performance will keep you busy for a month!
Like Myongji, GC's performance did not get a ton of views but a concert like this can only become legendary.  It is too good & has it all!  It is the closest we have seen to a Bambino style performance.
Bomi was on fire in a way we've never seen her & the rest of the group followed her; dancing like crazy. Like the best.
And they had FUN with fans.
People are putting her on the same level as Hadam & Eunsol.  And it's cool because Girl Crush looked & acted like Bambino doing this cover of "Uptown Funk."
MayQueen is not doing this with fans.  G-Crush looked a lot like Bambino, taking phones, running into the crowd & hanging on stage to be with their fans. 
MayQueen is not yet confident enough to do this level of  extreme, outrageous fan service.
Girl Crush is.
Check out Yona in her baggy pants & flaming red hair jumping off the stage to her new adoring fans.
Tae takes a phone & points it like a gun.
Bomi at 1:28.  (Thank me later…..) So good two guys hug each other.
This is as good as anything Bambino did with fans.
This is a #1 performance from the  #1 team.
Bomi gave a "faux lap dance" that is a masterpiece.  She is having fun now & that is even MORE thrilling.
Outdoing Laysha on the "faux lap dance" routine.  Girl Crush is now totally dominant in Cover with a lineup that is perfect.  Do they even miss Seihee??
"They dance & act like the top team because they know they are," said Park Cheol.
August 9, 2019
WHY SOM MATTERED SO MUCH
On our new blog we have a video of Som going one-on-one with Six Bomb's Seulbi. It is no contest. 
Iconic Sexy Cover Dance Queens: Som 솜 – 이번 시리즈는 최고의 카버댄서들에 관한것입니다. 여지껏중 뽑힌 최고의 댄서들입니다! Episode 4
Laysha's star was confident from her first performance until her last. 
No one had ever seen a Sexy Cover Dancer like her before. 
"Who is THAT woman!!" fanboys wanted to know.  We know now that she was Som.  One of the most luuved performers in Cover history.  We soon found out that we were hooked.
Som Addiction took us. She was all about tapping hard into our Lust!"
When Hadam left we cried.
We asked the universe whether there would ever be another one like her. But when she came back we realized that not even SHE could be what she was after 2 years on the shelf.  She got stale.  She had blown it (in our simple minds anyway) by leaving Bambino.  She blew her wad the way she blew ours for years.
Want to know something?  It will be even harder to find another Som. 
Her smiling hot sexy style & moves on stage were of great quality.  No moody shit with Som.  She was always there for you.
The way she poured water on herself with lust & went for it hard every time is still not matched by 96% of dancers. 
Hyolin admired her.  Eunsol too.
I can't swallow when I see her do fan service.  I can only fap.  She liked fans & even trolled for guys when dancing, they say. 
She was pure Cover & soooo fucking confident.  When she did "Wiggle Wiggle' back in 2015 she knew that it was great.  She had blown Six Bomb's cover version totally away. 
Most important Som never took shit from slut-shamers or false I-Dull worshippers.
She knew she was always the star & Cover was a game she was born to be best at.
Som could drain a man dry with her lusty Laysha concept – and she had fun doing it.
Som slayed & played & you never felt like she cheated you in a performance.  When she left the stage it was always to moans & screams.  She is & was a Big Time, ass-kicking, interesting AF Cover Queen. 
We are sorry she's not feeling good & are stunned & sad to hear it's her mental health.  We blame the agencies because they are cruel & fucking evil.  That's the bottom line & it has to change.
She was our second major bias in Cover & she helped inspire BodhiCat Talk & so we wish her a totally clean ride on her board, wherever the wave takes her.
OUR NEW ROOKIE OF THE YEAR GETS WET
She looks like she's either on the LPGA Ladies tour or the hot new dealer in the Baccarat pit in Macau.
But she's really the hot new KPOP Sexy Cover ROOKIE OF THE YEAR, Hana of Black Bunny.
And it looks like she's avoiding getting the Chaejin treatment with water canons.
House advantage always goes to the Dealer!
Remember the abuse Chaejin of Laysha got last year with hard squirts of water hitting her face? At one point she looked pretty uncomfortable.   
Hana watched that & said, "No thanks…..We'll be hot in water but we'll do it OUR way!"
Despite the intense water torture Chaejin & Som led Laysha to an important fancam cumback & moment at the Waterblock festival last year.
August 6, 2019
FINALLY!!
ROSE QUEEN'S JINI GETS WET!!
HONGCHEON BEER FESTIVAL 2019 THE SCENE OF HER SEDUCTION
It's like finally getting the woman you chased forever to do it with you, bruh. 
Seduction!!
For BodhiCat Talk readers this is ultimate vconquest.  After years of taunting her & saying stuff like "Hadam mopped the floor with her" & Laysha was sooo much better with water & Girl Crush could outsexy her in every way Jini did not back down but GOT BETTER & more determined.
She went down & finally took a water bottle into her hand & poured.  The rest is KPOP Cover history!
And being Jini, she did it perfectly.  No trickle of water (like some Girl Crush's we know….)
Jini is a complete icon of Cover & joins the greatest ones like Hadam, Duyoo, GoEun, Som, Gayoung, Dahee, Juhee (Holly Queen), Chaejin, Jenny (whose  legendary water pouring fancam is no longer on YouTube damn it!)
Ohhhh pour DJ Jini baby….pour in on!
Watch if slow & know that Jini has now done it all in Cover. She has "poured."  She is a complete legend.
Jini has won us over. 
Of course her dancing won us over a long time ago.
Her slay of "Wiggle Wiggle" is still the best. 
MAY QUEEN 메이퀸 시은 RETURNS!!!
MORE CONFIDENT, AMAZING….AND JUST AS THCCCCCCCCKKKKKK!!!
소리 질러!!!
An  incredibly hot Sieun salutes her many fans who have been waiting in hope for May Queen to return to Cover.  They have & they put on a powerful performance worthy of a potentially high ranked team!
The group we predicted could take over the luv of fans of Cover in 2019 has returned after a weird journey.
Hayeon promised BodhiCat Talk that after her experience at Laysha she was going back to form May Queen.  Hayoung also left Laysha (Boreum replaced her as you will see) & has brought her skills back to the original group, which includes the potential superstar Sieun & Semi, who has gotten a lot more confidence.
Their look is perfect for Cover & if they keep going they are sure to keep up with their more famous rivals this Summer & may answer the BIG question we have:
Which Sexy Dancers Can Cool Bomi's Heat Wave? 멋진 댄스가 물하고 같이 공연될때 관객분들은 환호합니다.
July 26, 2019
XOX IN MONSTER WATER PERFORMANCE 
The new XOX line-up has shook us hard. They smashed a water event apart & put on the hottest performance of the year (so far) at a water park.
That blonde ponytail swinging is a real turn-on.  But where is beautiful Captain Roh??
The performance quality of this group has always been high. Their look is Pocket Girls & Black Bunny with a little Flora tossed in; sleek and hot. 
They are having FUN & you can catch their wave.
XOX is back!
JESSI'S WATER MOMENT IS DRY AS DUST – LIKE HER WHOLE ACT
Every Cover Dancer in KPOP can outpeform Jessi. She would not make any group. She just fucking sucks.
Jessi's only contribution to KPOP worth mentioning is "Ssenunni."   Great bop because it's covered by some of our hottest groups like Holly Queen.
Otherwise, Jessi cannot hang with KPOP Sexy Cover Queens.
Her appearances at water festivals suck dirty water & what she does with a bottle of it here is a crime – especially in the world of Cover Dancing.  She looks like she's toeing the pitching mound getting ready to throw a weak ass pitch.
July 24, 2019
POCKET GIRLS YEONJI PUTS HER TEAM IN THE HUNT FOR #1
In our last post we shouted-out Pocket Girls & said we liked it when last year they went a little animal with their moves at the end of a cover of "Hip & Lip."  Now it looks like they are way more confident & scoring with their fan service.
We luv the Pockets because they are always so understated but there is ALWAYS that smokin' sexy body thang going on.  They hypnotize us when they move around the stage. 
BodhiCat lusts for Pocket Girls.
Yeonji has decided to open up & really entertain now ya'll.
This group gets better with age.
Released on the anniversary of Eunsol's ass-whipping of Seolhyun in a legendary video battle,  Pocket Girls posted this fancam proving again that Cover girls are still every bit as hot as Idols.
July 22, 2019
ANNIVERSARY OF EUNSOL'S "BATTLE VIDEO" VICTORY OVER SEOLHYUN
It is Cover's "Moon Landing."  Or "Booty Landing."
It was two years ago today but it seems like a million miles away now. 
It was a fap video like no other for us because BodhiCat Talk inspired it & produced it.  Before KPOP Sexy Cover folded the video had over 140,000 views & the majority of the votes went to Eunsol!
The reason was simple: Eunsol smoked a very smoking hot AOA star.  How AMAZING did Eunsol have to be to do that??!!
It helped prove to fans worldwide how great Bambino was.  It was an example of KPOP Sexy Cover Dancing claiming its turf against a major Idol.  They could dance hard, look soooo hot & were so much more fun.
Eunsol danced all over beautiful but spoiled Seolhyun with a sexy style that was at a whole other level!!
The ideas was to find the best footage of them in the same outfit & put them side by side for fans to see & enjoy. 
And compare!
Bambino had copied AOA's uniforms, the white tops with tight black "leather" mini-shorts, & modified them to be so fucking hot you couldn't breathe.
AOA fans accused Bambino of being "cheap & stealing AOA's wardrobe." Ha!  Eunsol is loose, hot, entertaining & having fun with the fans which made her the winner.
No matter how you look at it, Eunsol really is better than Seolhyun in this head-to-head battle & proved that she was an amazing icon.
Cover Dancers were here to stay.
POCKET GIRLS GOING OFF
멋진 댄스가 물하고 같이 공연될때 관객분들은 환호합니다.
The knock against Pocket Girls is that they are too "standard" Sexy Cover & too predictable.  Same old; same old..
The group has been releasing gem after gem of "Hip & Lip" & other covers that are powerful & full of that sweet, sexy style they own.
Habin said in a video discussion that she liked dancing like a "sexy animal." Her booty popping near the end of their new delicious  performances are animal AF.
They are never dull & their brand of beauty & their concept always makes me watch & smile.
And what they do with those bodies is way beyond compare.  They are sports car engines.
July 19, 2019
"THE BODY" BOUNCES OVER 1.4 MILLION VIEWS
There are two Cover queens who for some reason can turn me inside out with just one move.  One of them is former TwoL, Switch, Laysha & even Girl Crush star Jenny.  "The beautiful loser" who never was with a group when it really took of, has a body & boobs that are totally for BodhiCat to crave.
The other is a similarly unsuccessful performer, who bounces from team to team & never gets off totally.  But her bouncing gets me off – totally.
Inside her group they called her two names: "The Body" (for obvious reasons) & "The Diva" (because she is a total pain in the ass to work with.)
Former Switch, ICIA & Angels star Baek-jo, whose long, strong legs & perfect, big, soft bouncing boobs make grown men cry when she dances – especially when she dances "Up & Down" & blows Hani away like Eunsol used to do – still has her fans who want a cumback.
She has a fancam that is nearly 1.5 million views & if you are tired of the Laysha vs Girl Crush battles; the rattling shiver of Shasa's tight ass grip move & Pocket Girls repetitive eye candy, put Baek-jo's work on your playlist & thank me later.
July 17, 2019
NOW DON'T GET US WRONG. 
WE ARE ON OUR "WAY."
BUT……
Thcckk hottie Way of Flora & sometimes Fly with Me.  Look familiar? 
Is it me or is Flora & FWM's hot short-haired blonde thcckie Way a second-hand version of the great killer slay queen Chaejin of Laysha?
BodhiCat Talk is not saying anything dis on Way.  Way is becoming a bias & has some cute sizzle & tries to be fierce. 
But when I did my comparison shopping – daaaaammmn! 
It was WalMart vs……
…..Armani!!! 
Chaejin is a diamond of dance. 
You know now why Laysha has ruled for so long!
July 16, 2019
BACKSTAGE AT LAYSHA'S GREATEST COVER CONCERT EVER
Such confidence.  Then #1 ranked Laysha gets ready to slay a LOUD crowd!
This performance shook!  It remains one of the loudest, most enthusiastic crowds for a Laysha performance ever.  They were so "on" that Girl Crush (surprise, surprise) stole their outfits for their own shows.
Here is a rare, backstage peek at one of the greatest Cover concerts of all time.  Despite the sounds of a crowd almost crazy that night, the girls (then ranked #1) are cool, relaxed & ready to blow out an already overheated house. 
And they did!
July 11, 2019
BO YOUNG ASKS: "WHO IS BOMI?"
What did the beautiful Bo Young REALLY mean?
She's either so way out of the loop these days that she's in zero gravity, or we have a translation problem.  Is there any Cover Dancer, new or old, who does not know who Bomi is? Really?
Or….maybe she is suggesting that Bomi is a nobody, as in "Who is Bomi to be saying she is the best??"
When it comes to Bo Young & the other Iconic Sexy Cover Queens it would be really interesting to know what they really think about her.
Whatever she meant, the woman who nailed the 2nd best cover of "New Thang" ever responded to BodhiCat Talk this way when we asked her whether she thought Bomi was now the best.
"Who is Bomi?" asked the beautiful iconic Bo Young in Korean.  We 'splained it to her but haven't heard back yet. 
We keep checking….and checking this work she did:
Iconic moment. In less than one year she became an Iconic Sexy Cover Dance legend.
Bo Young shook the Cover world when she showed up at Migliore with three other amazing women & led a cover of "New Thang" that was tongue-dragging. 
We didn't think anyone would or could get off on this Redfoo bop ever again after Bambino completely defined it as theirs.
But Bo Young gave it a "sweet" interpretation with a body that even the Bambino girls had to admire. 
She was on her way to becoming a major KPOP talent but then decided to drop out.
Iconic Sexy Cover Dance Queens: Bo Young – 이번 시리즈는 최고의 카버댄서들에 관한것입니다. 여지껏중 뽑힌 최고의 댄서들입니다! Episode 2
She has been named a Cover Dance Iconic Sexy Cover Dance Queen by BodhiCat Talk Soju Surfers Club of California.
We asked in our last post if Dahee of Bambino was the most "wasted talent" in Cover history.  Bo Young might be though.  Her career with I-REN was too short but soooo sweet.  We are begging her to return!!
BODHICAT TALK FLASHBACK: BAMBINO BLOWS UP AN ARMY
Bomi & Girl Crush are dominant.
But one thang Cover does not have in 2019 is a group that does what Bambino did to crowds.  When we look at today's top groups few even get close to doing to audiences what Bambino did EVERY night. 
No one gave fan service & whipped up fans like the greatest of all Sexy Cover groups did.
In Fall 2015 the Bambino legend was growing & after Wonju Military's amazing performances they were voted the #1 choice of the Army, even above Stellar & Sistar!!
"We knew there was this dance group that was going crazy on the Internet & just destroying crowds like nobody had ever seen," said Park Cheol. "My brother who was in the military said EVERBODY wanted to see Bambino live."
A few lucky soldiers did.
The closest we get today are ranked group Pocket Girls who have become specialized in performing for military crowds. And they are damn good at it! Maybe the best ever.
IS DAHEE THE MOST WASTED TALENT IN COVER HISTORY?
There were few performers who made us fap harder or changed Cover Dancing overnight than Dahee.  When the goofy queen got into it for us oh my my!! 
But her career after Bambino has been dull AF.  But who cares?  She is a legend.
She could do it all: including pour & stand sexy on an amp on the same song!!
LAYSHA STARTS TO POUR AGAIN!
They didn't disappoint us.  Laysha is out pouring water on themselves again. 
We'll show you in our new bodhispeaks.com post what went down.
Fangirls are inpired by the news!
June 29, 2019
WILL WATER KEEP LAYSHA FROM DROWNING?
WHATEVER THEIR NEW LINEUP IS IT NEEDS TO FIGURE OUT HOW TO COMPETE AGAINST THE "BOMI SHOW!"
 Laysha is advertising for new members!  That hasn't happened before. 
Ever.
While this announcement was being made, the latest edition of the "Bomi Show" also happened.  Bomi is now producing her own "festivals." This one  featured nugus like Lady Girl.  The bottom line is that Bomi has become soooo popular that she is the brand name of Cover.  
And a really confused Laysha is saying, "Whaaaaat??" What are we??
What they need to thinking is "How do we get our fans back into us?"  The best way is to do what they Laysha does best: go sexy AF & get off USING WATER. 
There's no group better at it.  But there are two problems:
One of Laysha's advantages over every other group is the way they poured water.  It is  art & Hyeri was amazing at it.  But Hyeri left to surf other beaches.
A NEW HOLIDAY
Someone should set a date when water dousing competitions between Sexy Cover Dance groups officially starts.  We can then plan our parties & get pumped.  It gives the teams time to really prepare.  
Make it a BodhiCat Talk Holiday.

Summer heat!  The Soju Surfers Club of California hereby declares every July 1 the official start of KPOP Cover Dance's Water Pouring Season.  Like the start of hunting & fishing & baseball season, we now have WPS.
Fans will luuuv Cover because of this. 
But the BIG question NOW is when does the water flow for Laysha??  They have always dominated this important fan service part of Cover. 
But without the hot water pistols, Hyeri & Som they have run dry.  Seihee knows water pouring & is OK at it.  Hadam for sure but it really wasn't her thang.
If Hayeon did it we'd fucking surf to Korea to watch…..
GoEun – the best water pouring chick ever – & Chaejin (also great) are left.  What do the new members have in their bottles???  Because Laysha invented the Self Water Pour & they must rule by decree of the sea. 
BodhiCat Talk says: if Laysha does not return to hot self-water pouring & G-Crush & FWM, Black Bunny, RQ & Flora start to do it Laysha will be in big trouble! 
HADAM WRITES TO BODHICAT
THE woman reached out to BodhiCat personally.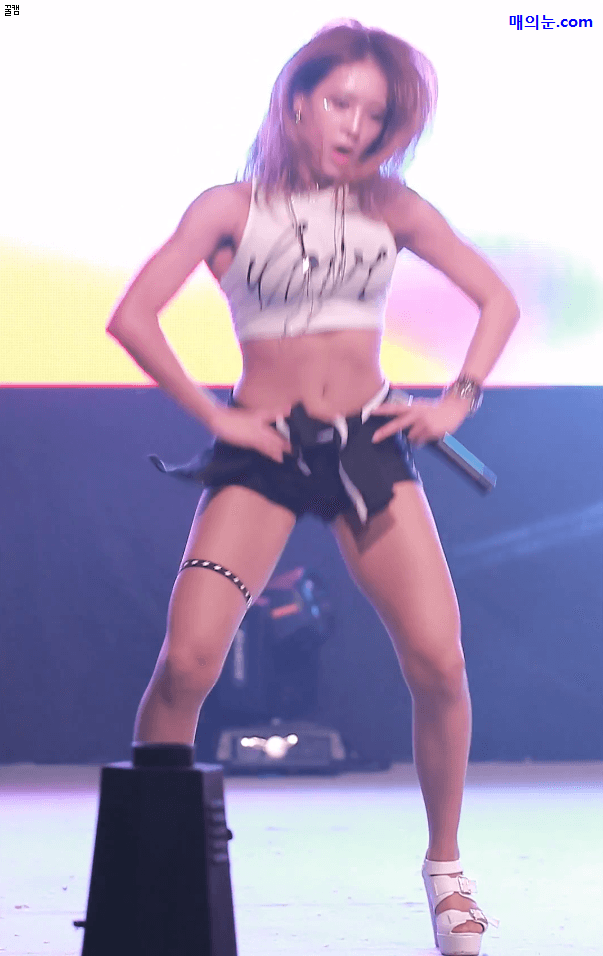 Hadam at her peak. Bitch-slapping Idols with their own songs!
The thrill of my Summer has happened.  I peaked.
  Last Tuesday I got an Instagram message (all in English) from the Greatest Cover Dancer in History.  I could not believe it.
She asked me to take down the photo of her from that infamous "commando" dance which Edge Green had posted. 
She was polite & really flirty & so BodhiCat Talk obliged The Greatest of them All. 
In exchange I asked her (in Korean) to tell me what she was up to & what her plans were.
She blew my mind & replied in English!
She is rehearsing & practicing "by herself" regularly & is a freelance dancer who still has her dream. She then touched our heart by thanking us for our support & encouragement.  Lots of sweet emojis followed.
Dudes, I cannot even fathom this. I am high.
FLORA. THE NEW HUSH?
Watch out for Flora.  They have soooo much going for them.  A FWM subgroup with real stage mojo & a potentially fierce AF thccckk dancer named Way.  Way doesn't get  much fancam luv & we notice that she has been pushed to the background while Ella has taken over as lead.
These are four dancers who like to deliver a good time. 
The team is exciting & bold. They are just starting to get their camel toe footing.   
They remind BodhiCat Talk & the Soju Surfers Club  of HUSH.  Once they get comfortable with their concept & each other they are going to give us anything we want & get closer to fans than any other group.
REMEMBER ARI OF TAHITI & HER MOM?
Remember that nasty BodhiCat Talk post from awhile back about poor (literally) Ari of Tahiti? 
We said Ari was "stone cold stupid" & the worst at fan service. Then we found out from her mom that her former agency hadn't paid her or Jisoo for almost 5 years!! What scum the agencies are & continue to be……. 
Those days are behind her.  Now she's on her way to see her mom with a bottle of red wine.
KPOP COVER QUEEN IN WAITING?
No doubt Black Bunny makes the Top 10.
They have so much talent.  The group's rising star Mimi uncorked her hidden power in a koala Lee fancam.
She goes off & looks like she has the power to go off even more when she gets really comfortable with her status. 
Mimi reminds us of Taeri of GC who has that slinky, fluid, fast sexy dance style.  But Tae is no competition for Mimi for overall dancing ability – although Tae is just ahhhhhh….tongue-dragging mean & hot all the time!
Keep your eye on Mimi. She killed "Kill This Love" big time & is being compared to her idol but now new rival: Taeri of Girl Crush.  She could be our fave new dancer this Summer.
We give a BodhiCat Talk Rising Star award to Black Bunny's Mimi & Flora's Way.
June 20, 2019
SO HOW FAR IS "TOO FAR?"
Watching Eunsol today doing her adorable sexy teasing show I remember how incredibly hot & controversial Bambino was only 2 years ago.  But since Hadam went commando & Eunsol broke the Internet night after night, Cover has gone WAY past their speed limit.
Bambino looks like AOA compared to what we see NOW!
KPOP Sexy Cover Dancing is out of control & riding a tsunami with a boogy board!
Is Bomi the limit of where Cover can & should go? 
Short answer: she is close to the edge but in Cover the Edge always moves closer to the Edge.
  Oh my my the way she is right on that edge makes it exciting AF!!
"Hit me with you best shot!" Bomi is magic these days.  She goes up to the edge & then goes back for more. She is making Cover exhausting!
Bomi knows no limits & keeps going where no one dares. But when she wants to pull back & show off her beauty & her kinky Goth style she goes there too.
Hadam was the original pioneer of Cover.  She was our Hyuna. 
Bomi is the Queen of Daring & always in training, looking for ideas (including FWM's to steal) & keeps sharp. 
She is what GoEun was when she was climbing to the top – an undefeated champion!
BLACK BUNNY STEALS CENTUM FESTIVAL
It wasn't even close.
They scored with they sexy bodies & charmed with their beauty.  Their tight choreo & stage presence was generating waves of happy feeling.  Black Bunny scored BIG at Centum – the first major festival of the KPOP Summer.  They are putting out a new sexy, stylish Cover style.
They owned the Festival this year!  Yeri & Mimi were sparkling & a way more confident, strong brunette Hana looked like she has had fans drooling over her for  years &  Hana started inventing her own twerks during her cover of "Bingle Bangle." Black Bunny danced like a future #1 ranked team.
This is a fun group & they are the hottest team out there.  They aren't even trying to push boundaries or go nasty.  Surprisingly they don't have to.  They are an almost perfect team.
Like the four girls were saving it up & then exploded on us right before "Oh My God" was released.
Their synch is perfect.  With a lot more range than the Pocket Girls.  They are almost equal to Laysha in sexy attraction to fanboys & beyond Girl Crush as dancers. (Girl Crush is an average dance team with above average ability to go raw & are powerful on stage.)
They are going to go up against the Big Queens with powerful dancing, beauty & energy now though. 
So they better watch out.  Everybody is watching these bunnies bounce high!
EUNSOL COVERS "NEW THANG" AGAIN!
행복한은토리
No one in KPOP did what she did.  It's a fact.  Hadam has faded into a substitute infielder for nearly wrecked Laysha.
But Eunsol has hung around.  She defied the dominance of the I-Dulls & put two of them (Hani & Seolhyun) on notice that she was sexier & had more fans. 
Eunsol has over 400 MILLION total fancam views.  And now she is starting to talk about her Bambino past days.
Not only that but she shocked the world by doing a cover of her famous "New Thang!!!" The most amazing Cover song by the most amazing group. 
Here it is:
Unforgettable isn't it?
June 15, 2019
SO LONG HYERI – AND THANKS.
Even though she knew got us super-charged with her famous "bend" move on "Chocolate Cream" she was about a lot more when she danced.  She is one of Cover's greatest queens:
She was totally cute & hot.  She made Laysha a monster team when she came in as the unknown maknae.  She rivaled her leader GoEun for fan luv & fancam views & has a lot of them with high numbers.
We really luuuuved that she never flinched when it came to making the "killer moves" & her sexy fan service made our tongues drag for only her & that once all-powerful & now kind of fucked up team known as Laysha.  
She had a weird wink but it made us lust for her even more. She was a stud & Cover dancing at its finest.
If Hyeri joins another group we will stan them like crazy.
Those were the days!
KPOP SEXY COVER DANCING SUMMER 2019
LOOKING UP!
This is going to be a profoundly uplifting Festival Season in Cover. 
For real ya'll.  Things are headed up, with more stuff going down & being tried because people know that for sure Laysha's #2 spot is available.
There is a four-way tie for first place (or second place if you stan Girl Crush & think they are just wayyyyy above all the groups.  We are leaning this way.)
BUT the big surprise that's getting the Soju Surf Club boned up hard are revived teams like Holly Queen (Juhee flat out wants it now) & nugus like the Flora four – a FWM subgroup – who are out crushing it & looking to break into the top 10. And watch out IF Hanchoim's plans to come back as a Cover dancer pan out!
HOLLY QUEEN REVIVES DAHEE MOVE
One of our fave underrated teams that needs way more attention is back & ripping stages with awesome sexual precision.  Not many groups get more noise in concert & fewer fancam view numbers than Holly Queen & their amazing leader, Juhee.  We do not know why.
Hot AF J is at her peak & says she is going to show the other groups & fanboys & girls that she can go hard. 
They are going off & a new member (unidentified) has a "Dahee Leg Move" that is second to only the ex-Bambino goofball & queen. Dahee had no rivals on this move (which she got from Minzy) but HQ's move is exciting AF to see because it reminds us of The Great Goofy One. 
We give it "7" on the Dahee scale of 10.
SWITCH'S SELF-EXILED QUEEN GAYOUNG GOES OVER 1 MILLION VIEWS
Another million views was reached by the Girl Who  Went Sooooo Hard but Gave It ALL Up.
She remains one of the most popular Cover dancers of all time.  Her fancams rival Eunsol & GoEun's.
Gayoung who today hates Cover, BodhiCat Talk, DAM Entertainment & ASMR still is one of Cover's biggest draws.
Her GDFR just hit 1M.
Congrats to the nasty fucking but forever amazing exiled Queen Gayoung.
WHEN ULTIMATE QUEENS SQUARED OFF LIKE LITERARY GIANTS
Eunsol is becoming an artist these days but still makes sure people know that she was called, "The Second Hani." She posts gym workouts & a lot of cute, semi-hot stuff. 
 June 9-13, 2019
THE HARDEST THANG IN THE WORLD…..
그대가 제일 좋아하는 올해의 커버 댄스 그룹은 누구인지 알려주실래요? 
WHAT IT TAKES TO BE THE #1 DANCER IN  ALL OF KPOP SEXY COVER!
It ain't 2017 anymore.
It ain't easy to be #1 in KPOP Sexy Cover!  Especially in 2019.
This is KPOP Sexy Cover Dance in 2019 & there is soooo much competition.  Dancers last as long as a goldfish poured  into your car seat in the boiling sun! 
Sure. In 2015 & 2016 there was NO contest.  The most important dancer in Cover was Eunsol.  And Hadam was the performer who shook KPOP & then earned total respect & luv as the best OVERALL Sexy Cover Dancer & performer EVER.  Those two spent 2 whole years at the top! Amazing!!!
They were the Hani & Hyuna of their field.
Think about all the hot women in KPOP.  Those I-Dulls.  How long do even the hottest stay on top?  Not long.  
Hadam & Eunsol imitated some I-Dulls but totally influenced performers like Nancy.
Even though not a Sexy Cover dancer, Nancy is still sexy AF & brings it on wide-open, Sexy Cover style.  She has that fap-to-me-all-night Cover style. Her eyes are like serious. She is under the influence of "Cover."
When Bambino blew up GoEun immediately took the top spot.  (In the minds of a lot of fanboys she was already #1!) 
But in 2017 and 2018 the top of Cover was hers alone.
Kim GoEun: the human highlight reel.
GoEun has held the top spot as Cover's sexiest queen for two years.  But she is now in a BIG TIME battle for the top dancer's spot with Bomi & hungry groups like Black Bunny & one of their stars, Hana.
"Bounce!" Black Bunny's red hot Hana knows what it takes – and has what it takes – to get attention as a famous Cover dancer.  Does she want to be #1?? Of course.
Of the hundreds of dancers and fancammers & millions of fans it is amazing for anyone to climb to the top & stay there. Right now there are only two at the top & they are battling over you!
GoEun vs Bomi – Summer Showdown of the Queens. (올해 페스티발에서 톱 커바댄스들을 불러 생방송으로 춤의 경쟁을 하는건 어떨까요?)
THE SEXY COVER DANCERS WHO COULD HAVE BEEN FAMOUS
Bambino will have to up their game now.

(A Reddit comment after Dimepiece made their first big appearance.)
Then there are the rest.  Those who will not be GoEun or Bomi or Hana or Shasa. 
They are the"next best," the "OKs" & the losers. Most dancers will fall into one of the three groups.
But there are some who had greatness but let it get away.
If I had the power to send Cover Dance back in time, I would for sure get Si Yu & Sally & Dimepiece into the hands of better management.  By the time I was done, they would be bigger stars than Eunsol.
 Si Yu had the right junk for Cover stardom. In the right hands (mine) & with the right management she could have been a top-ranked Cover star. But it's hard to be #1 in Cover.
Because she wasn't trained properly Si Yu moved through her choreo too fast & never learned the "dog whistle" moves.  She never got on a stage with thousands of screaming fans who could have moved Dimepiece beyond cheap cunt stunts.
She got exploited by her management, nearly starved & when her contract was over dropped out of sight. 
There have only been a few sightings of her since & she has never returned to Cover. 
AS GOOD AS ANY GROUP IN COVER?
They are dancing as good as any group in Cover right now & are exciting crowds & getting BIG noise! 
With Bambino-like precision,  FWM sexy style & Pocket Girls beauty, Black Bunny has the perfect package for Cover fame & stanning.
This is Black Bunny's Summer. 
FLY WITH ME'S RAUNCHY MEDLEY
Not to be outdone, FWM turned in the flat-out sexiest, raunchiest, Shasa-fappable three song medley of the week.
Fly with Me  gets down to business.  Are they becoming too much?
May 31 – June 5, 2019
LUMPY LAYSHA
Still delicious & arousing, Laysha seemed to be a step or two behind in May. 
Hayeong was getting her groove & Hyeri seemed to be the one taking control of the crowds.  GoEun was almost distant, wondering if a new Chanel bag had been placed in her room by an admirer.
But when Hadam was not dancing with them, Laysha – once the class of Cover – looked a lot like the #2 group they are now.  We know they an make fans crazeee & get fans cheering louder than Girl Crush or FWM.  But they need a performance recorded where they do it again!
They could not even burst close to any of the high power electrical storms Bomi & team were thundering out every night.
Laysha needs a really great Summer season or memorable performance soon to get back their mojo. Their line-up changed every performance almost & you needed a spreadsheet to keep track of them.  This is LAYSHA not Switch said BodhiCat Talk readers!
BUNNIES XPLODING
What makes this an amazing year is that it is like a great time for every team.
It was an even better month for Nugu Performance Group of the Year: Black Bunny.
Leggy Queen Yeri totally blew up a crowd with her own sexy AF twerk festival.
And I mean she did it like no one ever.
They are THE group to watch.  They have an album cuming out called "OMG!" Perfect name!
WHERE WAS THIS CHOREO WHEN TROPICAL NEEDED IT???
Can someone ring up Eunsol & let her know that Junghyun figured out what Tropical SHOULD have been doing?
GREAT COVER FLASHBACK MOMENTS: WAVEYA LIVE IN MACAU
With Summer here, Hadam blowing our candles & back & Girl Crush cashing checks let's pay homage to the first movers again.
They started it all:
The original live fan service, hot dancing, sexy AF concepts. 
The were the first xtreme  KPOP Sexy Cover Group; Waveya. Hadam busting an audience with her moves & fan service; Taeri of Girl Crush going hard & slinky grabbing onto a pole, Shasa spreading her legs in hot thigh-high boots – these moves were all done first by Waveya.
It looks almost innocent now but back then these queens snapped.
May 23-27, 2019
AFTER BEING HUMILIATED TWO YEARS AGO BY HADAM, HYUNA DOES MORE "COVER" 
Hyuna learned her lesson.
  She took her ass whipping from Hadam & remained great & even got better because she kept uncovering her "Cover" side.
Let's face it Laysha & Bambino's success forced it out of her.  Hadam crushed her in that one-on-one.
But Hyuna's Water Bomb performance in 2017 staggered us because it was pure "Cover."
Hadam told the industry to fuck off because she wanted to get laid & didn't care who knew about it.  (So did Hyuna of course!! Another similarity between them.)  
Like Hadam, Hyuna is back out with her sleazy backup dancers (we luv them) turning on her robotic army.  But Hyuna is at the top of her game which, in BodhiCat Talk's humble view, ain't all that top. 
But she can work you over with her charisma. Let's face it: Hyuna is just an average looking chick.  But she can project that she is the hottest piece of ass on the third planet from the Sun & fans buy what she's selling. 
Like Madonna did when my grandfather was young. LOL
Good for her.
But fans of Sexy Cover knew the real thang when they saw it!
Hadam's performances were what people needed to believe.  And when that battle video was released it showed that Bambino was as good as any I-Dull when it came to powerful, hard dancing, sexy moves & live stage FS fun.
These days we don't need to be convinced.  The proof is in the poontang.
I-Dulls can't trick us with their "we're classier" pose anymore.  Because they ain't.  They are going after the same thang & on the same stages.
THE INCREDIBLE BODY OF DIVA BAEK-JO 
Baek-jo is a tongue-dragging Diva who no one wants to work with but is soooo sexy.
She proves it again in this  new battle video with I-Dull, Hani.
Baek-jo puts Hani on a tee & drives her out of sight with her own song!!
Baek-jo reveals the power of Cover to Hani.
SOLY & FORMER TWO-L TEAM MEMBER JENNY HOOK-UP
FREELANCE TREND CONTINUES
Taking a page from Camila's success (but without Hanchoim's money behind it) there are former super Cover group members who have decided they can do better being independent "freelancers."
Seihee, Ayoungha, Baek-jo (although she may be unemployable because of her diva mentality) Sally, Hadam & others are all floating around & once in awhile appear on fancam videos.
One of the hottest, high-power combos is Soly of the hot flop A-SEED (how they failed is beyond us) & the Greatest Tits in Cover History (and one of its greatest water dousers) former Laysha, TwoL, Switch AND Girl Crush team member, Jenny. 
Jenny is the most experienced Cover Dancer.
She has been around.  From Laysha to Girl Crush.  She is my ultimate sexual type. But weirdly groups that Jenny LEAVES always do better after!  
As soon as Jenny was replaced by Hana the Switch group got a spark.  
Problem with Jenny is that NONE of her groups took off while she was in them or leading them – including  TwoL where she performed hot numbers.
So they are now a team & doing fine.  But don't expect them to blow up until Jenny leaves……
Soly is straight up one of the most beautiful women in Cover.
Stan: _solvely0211_& _iam_psg 
HYUNA CUMS BACK HARD
An average version of "Hip & Lip" by an  average performer who knows how to use her imagination to get us to lust over her.
If the situation was reversed & Hadam had Hyuna's agency & media power she would be like BTS or B-Pink.  She doesn't & is a sad case of someone who was clueless about their impact.
So now we ask……
IS HADAM'S CUMBACK THE NON-EVENT OF 2019?
No doubt Hyuna's Army would like to get another shot at Hadam in a battle video. Hadam totally dismantled her the one time they were matched up.  But Hyuna at this point is probably shaking her head like everybody else about Hadam.  Her performances in Laysha have been flat but the overall dancing, as we expect, is spectacular. 
Right now she looks like the third team member of XOX. A mere mortal.
Is there any gas left in that amazing tank? 
Or will we always look at Hadam & want to see this?
And never give her any slack? 
JUHEE OF HOLLY QUEEN (댄스팀 "할리퀸) MAKES HER ANNUAL CUM BACK
Juhee is like a rash.  She cums back every Summer.  But the the Juhee Rash should spread instead of going away ever year. I can't figure out why this dancer never gets major league traction. 
(Is there a theme here??)
Holly Queen is an incredible team & is back this Festival Season & so far looking spectacular.
Juhee is an amazing Sexy Cover Dancer.
Her water pour & cover of "Horangnabi" last year at the Boryeong Mud Festival nearly started a riot & was one of the top fancams of the year for BodhiCat Talk.
직캠!!  Will anyone do a water dousing better than Juhee did last year?? Juhee went wild & fierce on a cover of a song we thought GoEun owned!  Can Holly Queen bust into the Top 3 this year?? So far they are looking great.
WHY SOME CHICKS TURN A GROUP TOTALLY AROUND & MAKE THEM #1
Taeri of Girl Crush came out of nowhere & with a body that got unleashed & a personality that lit our hearts & still does she poured, shook, whipped her amazing booty hard & made her team #1.  Forget Bomi. It was Tae who made GC the queens. 
Read how:
Girl Crush's Taeri 태리: "I Could Have Saved Bambino & Dimepiece"
DOES FUNNY MAX NEED TO CUMBACK?
Our #9 group Funny Max 메리트퍼펙 퍼니맥스 is getting attention again.
For whatever reason last year's #9 team & our post announcing it, is going off the charts with views!
KPOP Cover Dance Summer 2018 Rankings: #9 – KPOP 섹시 댄스 그룹들의 Top 10 순위
May 15-20, 2019
NEW LEGENDS READY TO APPEAR THIS SUMMER!
In Summer 2016 a group that were just a bunch of hot nugus in 2015 stayed at #1.  No one could compete with Bambino & no one has since. 
The Era of Bambino, the greatest KPOP Sexy Cover Dance team of all-time is gone. But Bambino launched KPOP Sexy Cover Dance in a new direction.
This Summer we are going to see more results of that!!
This Summer there are at least six groups that are sizzling & confidently looking to shake audiences, get more attention & prove they deserve gigs & all the fame & money Bambino never got.
There are nugus who will go out & show Girl Crush that what they are doing ain't all that great & can be copied & done better. 
These new groups see Girl Crush & a big goal.
Pangye learned their craft at the Bomi School of dance.  Even though they are still new, they do the "Bomi style" good enough to get attention.  BodhiCat thinks that this group could be amazing.
When it comes to the Top 10 Rankings for 2019, our readers think Girl Crush is vulnerable to defeat. 
Laysha is starting to go off again.  And when Laysha & especially GoEun go off call the Fire Department!!
Fly with Me dances like sexy maniacs & even Rose Queen is rocking sexy like we've not seen since Soel left the group. 
And beyond Pangye there are tons of  those incredibly cocky nugus like Lady Girl & Untitled performing almost every day!!
"메이퀸 하연 솔로댄스 직캠" 
Last year there was a buzz in Korea every time this got posted:
"메이퀸 하연 솔로댄스 직캠" 
(Translation: "Here is another May Queen solo dance fancam.")
If Som does not come back & IF Hayeon (who we predicted would have a great year before she left May Queen) gets a little more "Cover" in her mood, watch out.  Laysha will return to #1 & Hayeon will become a savior.
Fly with Me (on their way to Japan with a big contract this week) will make a big move. But they always seem to fall a little short because they aren't really powerful like Laysha & GC, the two groups ahead of them. 
But they work it hard & their fan service is great. Shasa could make it happen with a few spectacular concerts & Ati has the potential to roll big time. 
The sleeper could be Rose Queen.
RQ a few hours ago on the street.
Jini looks better than she did in 2015 when she was the booty of all booties & became iconic – even though Bambino managed to totally bitch-slap the group for about two years & took most of their fans. 
They recovered from that & now Jini is back in charge.  Her group has been reborn with two hot rookies & they are going more "Bambino" than ever before.  It may be too little too late for this group – and they really need to add more fan service yo get things moving.  But according to reports they are "hungry" to prove themselves as having been the best all along.
Our advice? Douse water this Summer. And Jini needs to talk less like someone directing people to the produce aisle in a grocery store & more like the sizzling booty busting DJ she is!!
RQ is too low key for today's Cover scene.  G-Crush knows fans will always support a group that pushes themselves out as far as they can.  Learned it from Bambino.
Study this Jini:
Can Rose Queen ever get to the point where people say that are too sexy? Or will GoEun always own the turf?
IS THIS "COVER?"
Even super sexy pole dance champion Rene Wu thinks she has a shot to be #1 in Cover!!
SURPRISE OF THE WEEK
Diana is back.
But they are back with that "Adult" style & their ferocious sexy, semi-club, lap-dance style.  They are the JS Entertainment product that never dies.
Lee Bomyi is gone & that's a bummer but their new leaderl – Jenny – is just plain hot & she is telling you in that outfit & with that dancing that they want a ranking for the first time!!
Diana: Cover's "flash fuck" group.  You meet them & it's an immediate sexual attraction.
They are out again & immediately they got all over us & delivered it fast.  It's wham-bam.  Diana is the ultimate Cover group for men & they have added a little xtra this time.
What IS Diana? Part models, part club queens, Sexy Cover Dancers.  Total eye candy.  Pocket Girls who aren't afraid to take you in the back room & give you a quickie-style.
This new team's bodies could win a bikini fitness competition & we can see them going off on a crowd (as they did in the Lee Bomyi days) with all kinds of fan service.
Will Diana  be the most viewed team of Summer? Will they FINALLY get a ranking? They are the only JS Entertainment team that never has gotten one.
May 10-14, 2019
WHEN A SEXY COVER DANCER WANTS TO MAKE HER STATEMENT…..
Flashback: Hadam put her foot on amps to thrill crowds & make her statement that Bambino was the #1 team in Sexy Cover & "New Thang" was the only thang we needed to live for. Now this fancam has 3.3 million views!  No "amp statement" had been made in awhile until last week when a new member of Laysha made her statement.
NEW LAYSHA MEMBER CLIMBS ON THE AMP
MAKES US CRAZEE!!
New Laysha member Hayeon (since returned to May Queen) went on an amp the other night & cut loose!  GoEun finished the set with an electric performance that left Girl Crush wondering if their time at the top is coming to an end.  GoEun that she is back & as good as ever.
When a SEXY Cover dancer wants to make her statement that she wants to whip a crowd hard she puts her foot up on an amp & does a sexy move.  The great ones have all done it: Hadam, GoEun, Yubin, Chaejin, Dahee & Bomi. 
The result is a mouth-watering slay, sometimes of epic proportions. Crowds go wild.  But few girls dare to do it.
Hayeon made her first "amp" statement last night. We wouldn't say she was "epic" but she got the crowd going LAYSHA STYLE.  She joins the "amp club" & she is working on being epic for sure.
To prove Laysha is not longer punchdrunk, GoEun finished things off looking a lot like herself again. 
She may be responding to BodhiCat Talk & the way we said she was getting old & slowing down.  But she found her mojo after the Hayeon opening.  And she was all underwear.  So take that Bomi & Girl Crush!!
The great GoEun is dancing fast again.  She did it again a few nights later.
Still the Boss. GoEun reclaims some turf.
This is as good as anything she has done this year.
Looks like Laysha has decided that it's time to kick ass again. 
Hayeon is the one chosen to help them.
Laysha looked like Laysha finally with her in the lineup.  There is no group that rocks a sexy, stylish Cover dance like this mean-ass team has done forever.  But they got lost recently with Som being MIA & replacements like the great Hadam & "The Body of the Year," Seihee, not working out.
But if chunky thcck Hayeon can do "Laysha," she will be famous.
We hope she's a keeper.  BodhiCat Talk luuuved May Queen & Hayeon.
IS THIS "COVER?"
Will never get enough to Ko Hara doing a soju commercial!  We were so sorry to hear that Kara is having a rough time in her personal life so we wanted to celebrate her with this.
Is This "Cover?"
Dude, it is more Cover than even Cover. It's what we'd like to see our Cover Queens doing more of!  This and pole dancing. 
We hope our queen Ko Hara gets her shit back together soon.
Bodhi luuuuuvs Ko & wishes her well…..
#stopsucking
May 5-9, 2019
BodhiCat Talk Breaking News
SEIHEE JOINS LAYSHA
EPIC SWITCH!
With the release of this fancam by Rock Music two things are now official: Seihee and Bomi are rivals & Hyeri is no longer the maknae of Laysha!
According to former Dimepiece star & our industry insider, Sally, Laysha is an amazing group that can not be duplicated or replaced. But she added that the team is getting old.  So the news that they have brought on a young Seihee from Girl Crush is a shock but makes sense.  
Laysha & fans are still trying to recover from whatever ails Som, though.  So far they have tried Hadam (old), Hayeon (unskilled) & now Seihee.  She was GC's best dancer & is a lust-for body.  So maybe she will give Laysha that face-lift its management thinks it needs.
BOMI INVENTS A SEXY NEW COVER DANCE MOVE:
"THE POWER PUSSY PUSH"
Bad Ass Bomi!
She is the "anti-Hadam."  Relentlessly working her fans over to stay on top.  We luuv her fierceness.
Bomi has become so dominant in Cover that it often looks like she is taunting the lesser groups for not being HER & showing stars from the past what a Cover dancer who has risen to the top SHOULD do & should be like! (Hadam if you are reading this that means YOU!)
Girl Crush obviously keeps their eye on Laysha but even more on Fly with Me.  This is because they think they are sexier than Laysha & see GoEun as on her way out. 
They keep taking FWM's concepts like the Iggy Azelea choreo & ramping it up.  Maybe Bomi is not deliberately putting it in Shasa's face & saying, "I'll take all of your ideas & fans whenever I want. because I am Bomi & you aren't."
But maybe she is.
Despite criticism about Girl Crush going over the top and taking routines and ideas from the lesser groups that's what they do.  They are NOT a spectacularly good dance group, but do what they need to do to make us say they are the best.
She's not only getting better & better as a dancer, starting at :20 she gives you a new  "pump" move.  Bomi is fearlessly sexual.  Honor her for it. She is always there crushing it for us.  
She is the best & most provocative Sexy Cover Dancer.
JINI OF ROSE QUEEN HOT AGAIN!!!
Unless Hadam performs regularly again & sends her into oblivion like she kind of did in 2015, Jini of Rose Queen is for sure our "Cumback Artist of the Year.:
Did Jini finally get KPOP Cover Sexy Dance "religion?"
Jini is using her amazing butt & body harder than ever.  She wants to move RQ into the "Very Sexy Concept" category.  RQ's new group members, like Lisa, have a chance to emerge as Cover stars to take on Shasa, Taeri & the slay bomb queens ranked ahead of them!
Hand clap & ass snap! Jini in white hot pants is magic.  New look Queen Jini goes way off. She's never looked better.  
At a recent auto salon show where RQ performed  Jini's VLlog was a slay.  Near the end she says, "Rose Queen is going to stay at number one. Keep loving Rose Queen!" 
Only one problem, Jini: you are  #5 right now…..LOL.  But damn, keep up those moves & you never know!!
MOVING TOWARD THE TITLE?
They may not have a title or a top 10 ranking yet but Untitled is making a name for themselves. 
Pharkil keeps them in front of fans.
Sejeong keeps putting those thighs to work & Phark is luving it.
MOVE OVER TAERI THERE ARE SOME NEW LEGS IN TOWN
Girl Crush's Taeri has had the hottest legs in Cover award all to herself for a long time.  But as of now half of the new dynamic duo in Cover (that would be Black Bunny's Hana & Yeri) is about to challenge that. 
We give you Yeri's legs.  Look at her.  Her confidence is building fast!!
메이퀸 하연 JOINS LAYSHA!
The pretty, hot AF bomb whose dance skills are not gonna confuse her with Waveya or the NY Ballet dance team, but who for our money is the most fascinating hot, semi-talented icon in Cover did a cover of "Chocolate Cream" with the #2 ranked Laysha & scored highest.
Yeah, that's the May Queen legend Hayeon who we thought was done dancing  She not only came back with Laysha last weekend she got all of Cover shook. 
Despite her clumsy moves Hayeon has IT. 
She did not look very well-trained and we would understand if people kept saying after, "밤비노를 다시 불러 춤추게 합시다!" (Bring Bambino back!!)
Why Laysha would hire her is another question.  Some say the read BodhiCat Talk & are going to call out Girl Crush & have that epic battle for the top using Hayeon.  
They need to because Bomi is just wiping them out with one hot performance after another.
So Laysha pulled down Bodhi's zipper again & pulled out a BIG THCCK surprise.
That's two this month for the A1 agency.  Hadam & now Hayeon.  Is Laysha going to have guests appear every performance until Som comes back?
Or are they auditioning for her replacement?
 Whatever they do Laysha needs & wants to get back their #1 ranking from Girl Crush and watch out for FWM!!
Good luck to @h.a_yeon_2 홧팅 .
MEANWHILE OVER AT FLY WITH ME…..
If there was ever a group that doesn't give a shit what Laysha & Girl Crush are doing it's the amazing Fly with Me. They are in their own sexy bubble world, knocking off fierce performances one after the other.
Ati is now a second star after Shasa.  Her dancing is getting way fierce.  Unlike the plodding feet of Laysha or G-Crush, FWM with Ati & Shasa going hard are refreshing. 
They move fast & do deep dive into sexy style.
A lot of BodhiCat Talk fans are saying, " Fly should be #1!!"
Another night at the office for FWM's Ati, who is fast becoming a fanboy fave.  She's a great dancer but also can get down & grind street & stage style!
KPOP Sexy Cover Dance has it all! Amazing.
April 15-20, 2019
홧팅 FIGHTING….
We have begged KPOP Cover agencies to bring stage battles to Cover to get crowds, make more money & settle the issue of who is #1.
It would keep THIS kind of stuff from happening!
"I-Dulls are better!" "No, Cover is better!!" This one even has a surprise ending.
Again BodhiCat Talks fans say to let I-Dulls & the top 5 Cover dance groups go head-to-head in a sexy dance competition with the winning group getting $2.5 million & the losing group going out of business.
Not really but you get what I'm saying.
Let fan noise decide.  It would be the only judge.  We can measure audio levels.
Purists ask, "Should Cover & I-Dulls go head-to-head in competition?"
Should you breathe oxygen?
The girls know damn well they compete for fans' attention anyway.  They LIVE for it.  They areout there trying to steal each others' fans & boyfriends  & fancammers' attention when they dance.
So why not finance a series of competitions where I-Dulls do their original song & choreo & then our Cover Queens do their version?
To even it up they would next both cover someone else's song? 
(Do you think Sunmi would cover "Adult Ceremony" like Duyoo??)
IS THIS "COVER?"
No but can we keep staring?
WHAT'S HOTTER THAN BOMI'S BODY?
HER BRAIN!
Not burning bush ya'll. Burning brain!!
If you ever got inside Bomi's head you would know all thangs.  And we did. 
Don't ask how just read this:
Bomi Sizes Up Her Competition – 보미가 생각하는 동안 우린 보미의 머리속을 들어가봅니다.
April 5-9, 2019
CONFIDENT GIRL CRUSH ROOKIE YONA DECLARES HERSELF "A QUEEN."
THEN GOES OUT & ROCKS GROUP'S NEW VIDEO
Gotta hand it to Girl Crush's Yona.  She fits in to that absolutely cockiest group in Cover like BodhiCat would fit into……(fill in the name of your favorite Cover idol here!)
After all, doing stuff like this……
Is it me or do U think Zia is a women who will get even sexier after she gets married?
….is how you stay #1 in Cover if you & your team have very hot, strong bodies, no fear & your talent (let's be honest) is slightly less than your 3 closest competitors.
You work hard, be fearless, tune out listening to the jealous slut-shamers & as our bud Sally of Dimepiece told us, steal other groups' stuff & make it even hotter!
GC's Yona proves in her recent fancams & now in this amazing new MV that GC has total Sexy Dance mojo. 
A little bit Stellar, T-ARA & a lot of just plain old Girl Crush representing the best of Cover.  THIS IS COVER & THIS IS KPOP FOR ADULTS.
Yona, who gets the first close-up in MV & then gives way to the glory of Bomi's spread legs, is positioned as the group's beauty.  Bomi has signed her name to the concept of Warrior Queen.  She will fight the slut-shamers for the privilege of being called the author of Cover's emerging "Slutty Concept."
(And that is meant in the BEST way.)  
This MV keeps the group everybody is unsure about ahead of the powerful competition of Laysha, Fly with Me & hot newcomers like Black Bunny.  Yona, Taeri, Bomi & Zia stay outrageous & go one step beyond. 
Yeah it kind of surprised us when Yona wrote, "I'm a queen."
But she knew what was cuming in that MV.
Girl Crush makes its big statement in 2019.  Fighting!
So would it be OK if Yona became the new Queen of Cover & joined GoEun, Bomi & Shasa at the top?
ALSO APPEARING
In another week of surprises, former Laysha queen and Camila's beauties Yubeen & Choim (Hanchoim) took it to the street to promote their new (very) hot MV. 
Yubeen just crushed it, kneepads & all.
Too bad the group folded.
LAYSHA RIDES THE WAVEYA
With the new amazing GC video out can  Laysha still beat GC in the rankings? 
Right now Laysha is going the Waveya way.  GoEun's recent 10-minute video of her dancing in a bunch of different outfits is tongue-dragging in spots.  She cannot look bad & in a black dress early on she had me out of breath, I swear.
But Cover is about performance.  And Laysha had the greatest performer in Cover on a stage with them a few weeks ago. 
So, WHERE IS HADAM NOW??
What is going on with this group?  They pulled out of MakeStar, refunding the money.  They bring Hadam on & it looks like ballgame over for everyone else.
But it has all changed again.
Here is what we say: GC knows what they are doing & have again claimed their territory.  
So where does that leave Laysha & the rest???
March 30-April 5, 2019
HERE'S SOMETHING RARE….
..….a Eunsol fancam that HAS NOT gone over 1 million views yet!
This week a lot went down.
 Shasa crushed Lisa & Bomi got her 2 million views for the "Anaconda" masterpiece.
Hadam got played with & again showed her grumpy side when those bad-ass Laysha bullies (see 0:38) started to fuck with her.
The fact remains however that NONE of these Cover bitches did what this woman did.
And continues to do ya'll.
The Big One! It made Hani's jaw drop.  22 million views.
Shasa, Bomi, Hadam, Gayoung & Japanese robots together have maybe 20 fancams with over 1 million views.
AND EUNSOL? 
So many we have to sort through them to get our fave 50 fancams!!   
Our countdown continues.  Up above is #29.  It made her the "next Hani." 
Eunsol is proud to say people called her "the new Hani."  Where she goes now after the Tropical storm is up in the air.
ONE OF COVER'S MOST AMAZING WEEKS!
QUEENS SNAP!
A ton went down this week.
Shasa of FWM took on Lisa of Blackpink in a battle video produced BY THEIR AGENCY!! That is the first time a Cover group's agency has done anything like that!  It's so cool
FWM just keeps up the creative pressure ya'll. Is G-Crush getting tired of trying to follow them??
Ya gotta read what we had to say about it at our other post.
HANA GOING VIRAL – FINALLY! 거창대학
BLACK BUNNY (#블랙바니)
ROOKIE GOES OFF WITH CRAZY HOT PERFORMANCE
As BodhiCat Talk predicted on January 17 (see below) Black Bunny's rising star, the beauty Hana, had a breakthrough performance (courtesy of Pharkil) at Geochang University this week. 
She ripped her routine & fans went crazy the whole performance over her & her moves, her hot skirt & her sexy cuteness. Her choreo included butt moves & twerks which she broke they were so good!
This one will put her on the map!
Hana guaranteed Black Bunny a place in the top 10 with this performance.  She really snapped!  (Now don't do like May Queen & break-up Bunnies!)
WHO GIVES THE BEST BLOW JOB IN COVER?
So who do YOU (wet) dream about when you dream about the Sexy Concept at its finest?
Bodhispeaks.com ponders stars who "toot the flute": 
Fan Service Friday: Cover's Best Blow Job? – 오늘은 팬 서비스의 금요일입니다.
#블랙바니 #respectlaysha #stopsucking @oceana @shasa_fly
March 25-30, 2019
NUGU TROLL PATROL:
DREAM TEAM IN THE WORKS???
How about calling their group, "New Thang??"
This photo of Iconic Cover Queen Bo Young & the "new Hadam" for superstar Eunsol, Tropical's pretty Jooeun, got a lot of buzz going last week about I-REN getting back together now that Tropical looks to be done.
Waiting for Bo Young has been torture.  The woman who was on BodhiCat Talk's list as one of the best ever, has never been back on stage since she tore up "New Thang" covers.  The two of them together? The mind reels.
Iconic Sexy Cover Dance Queens: Bo Young – 이번 시리즈는 최고의 카버댄서들에 관한것입니다. 여지껏중 뽑힌 최고의 댄서들입니다! Episode 2
Check out Bo Young's version of "New Thang."
IS THIS "COVER?"
Damn.
It had everything: a hot beautiful dancer in tight spandex pants looking to bust on a hot summer night with a water bottle in her hand.  The water started to cum out…..
….and then – what?? WTF?? – she watered her African Violets?  Ohhhhh. It could have been so awesome.  But it was just a tease & a big time missed opportunity to douse for the fanboys.
NO!!!!
Not "Cover." Almost criminal.
Almost as bad as a Russian hacking a Laysha dousing!
March 20-24, 2019
IS NOTHING SACRED ANYMORE???!!
(I-DULLS GO"COVER!")
Hyolin steals a lot of stuff from Cover dancers, but she sure is "Cover" here.
Oh those I-Dulls.  Their agencies luuuv to tell fans how nice they are & how they would never copy anything that those low-life Cover Dancers do. 
"Those Cover Dancers violated the rules of KPOP.  They are too much!!" you will hear the hypocrites say.
  LOL!!
So who is knocking-off who?
What's next for Hyolin? "Faux" Lap dances? Would you like to see her do it?
She does have the killer legs of all time. But there are sooo many Cover dancers soooooo much better than her at the "faux" lap dance.
GIVE GOEUN THE 2019 "STYLE IN MUSIC" KPOP AWARD PLEASE!
GoEun is the irresistible sexy dancer.  Her style is so primal.  She is the one who worked harder than any to get to where she is.
GoEun is the equal of Hyolin.  And Sistar has won a ton of awards like the Style and Dance Awards.
It would be heaven to put them on the stage t& let them go at each other in a serious sexy dance contest. We would then see who fans think has the "style" that works for them.
Serious ya'll. GoEun would show her who's boss.
GoEun & Laysha are peoples' favorite KPOP team in California & around the world. Not just their fave Sexy Cover team. GoEun is the reason.  She's been doing booty work at a very high level & has made making BodhiCat Talk readers high for a long time.
The KPOP Industry needs to honor her. 
OK HADAM….
NOW WHAT?
하담씨의 댄스에 대한 미래 계획은 무엇인지요?

She is dancing in the Laysha studio getting ready for Festival season we hear.  But what is really happening behind the scenes?
Hadam is complaining a lot about getting old.  Hmmmm. Does Hadam have what it takes now to compete with a younger, way popular Bomi?
Is she shook when she thinks about what might have been for her & sees Girl Crush & Fly with Me & others?  I doubt it.
But come ON all the way back, Queen.  Get into it again.
SPEAKING OF CUMBACKS
One of our fave Cover dancers who never got the luv but is amazing is ex-Love Cubic queen, Ayoungha.  Now on tour in China she shows that she is still "Cover" AF.
March 15-19, 2019
HYUNA'S HIGH STEP TWERK A FAVE
They are often compared so let's compare them where it counts.
Netizens say Hyuna is a lame twerker. Maybe so ya'll but her high-step over twerk move is mighty.
GoEun of Laysha has a range of short-burst, creative booty moves that always leave us fapping for more. 
This is her "hungry & hot" spin twerk move.
Crush THIS!!!  GoEun: is a sexy dance machine genius. She has so many hot booty moves that it is crazy!!
GoEun is sooo good at twerking that Laysha TV decided to let her give a seminar on how to set-up a choreo that is all about creative booty moves. 
ADD A-SEED TO THE CROP OF FLOPS
The had the look & it looked like the right mojo to be #1. But A-SEED folded. But not before Mini gave us nice booty work in a great upskirt capture.
The Year of Flops continues.  It's official, A-SEED, once our #5 ranked team after a solid launch & Eunsol-like numbers (one fancam had 14 million views) & Ji-Hyun, an ex-Black Queen star with a fierce attitude & a near-perfect thcck twerk move which hasn't been seen in awhile is officially done.
Jihyun is another great slow twerker whose group almost got famous. Luv to watch her dance. A-SEED never put it all together like Bambino did though.
IT IS OFFICIAL: HADAM IS IN, SOM IS OUT
She Is Official & It Has Happened Before – 현재 모든 그룹들이 딱 어느 한 그룹에 신경쓰 고 있나요? –
But Laysha & Hadam have appeared together before.
#stopsucking @wildlifefirst #respectlaysha #bodhispeakscover
March 12 -15, 2019
EUNSOL'S NEW GROUP FLOPS
"MWAH!"
MEMBER JOOEUN CONFIRMS TO BODHICAT TALK
We thought Eunsol's comeback in August was the best news we'd ever heard. But group member Jooeun confirmed the lousy news. 
The group is done.
She may have 100 fancams with 1 million+ views (and she just had another one go over the top) & she IS the most important dancer in the history of Cover Dancing.  But she is now associated with two groups that flopped.
The first, however, made history before it's version 2.0 went down without a peep.  Her role in Bambino wipes out any failure after.
 Tropical was dumped by the agency, LUK Factory.  LUK had already debuted 3 groups & when it was obvious Eunsol was not gonna do for them what she did for KPOP with Bambino, they figured a group talented but unknown street buskers & an aging Sexy Cover dancer whose fans were not showing up to support Tropical was not their best shot. 
KPOP is a brutal game.
They had bet on the Bambino legend to carry Tropical, with Eunsol being the "spoiler," said All KPOP.   It was potentially a great bet & I'd still make it, but by bringing Bambino back together & starting competitions against the Top 10.  You know the BodhiCat Talk proposal.
Maybe Tropical should have hired Hadam because Eunsol  never ignited.
YEAR OF THE FLOPS
Tropical joins a growing list of flops, dropouts & big changes in Cover this year so far.
WHO ELSE WILL GO DOWN? Our Top 10 rankings are filled with groups that are gone.  So there are plenty of chances for nugus to become ranked teams!
#1: Girl Crush – 걸크러쉬
#2: Laysha – 레이샤
#3: Fly with Me – 플윗미
#4: Pocket Girls – 포켓걸스 하빈
#5: Rose Queen – 로즈퀸
#6: Holly Queen – 홀리 여왕 (Suspended)
#7: XOX – 엑스오엑스 (Status Uncertain)
#8: Switch – 스위치 (Name Changed)
#9: Funny Max – _메리트퍼펙 퍼니맥스 (Gone)
#10: Angels – 엔젤스 (Gone)
BODHICAT TALK BREAKING NEWS REPORT ON HADAM'S RETURN TO COVER DANCING
"The Miracle in March"
HADAM IN
 SOM OUT
 THE HADAM 2.0 ERA BEGINS!!!
She Is Official & It Has Happened Before – 현재 모든 그룹들이 딱 어느 한 그룹에 신경쓰 고 있나요? –
So now it is Hadam Time again – after 2 years!
Unless there is more breaking news about Hadam & Som's status, we will be back to regular reporting on a new Hadam Era.  We will follow our Queen, compare her to others, praise her strides & see if she still can thrill us with fan service like no other.  And all with her being part of Laysha!
We will also be getting back to asking "Is This Cover?"
Showing you Eunsol's 50 fancams with over 1 million views & bringing you the hot responses to the New Era in Cover from Girl Crush, Waveya, Fly with Me, Pocket Girls & the rest of our Top 10.
We will soon be back with a new Nugu troll patrol.  To the groups & their fans who have asked, 우린 그동안 다른 그룹에 대해 쓰느라 바빴지만 올해는 여러분 팀에 관해 쓸겄입니다. 여러분들의 관심 감사드립니다.
After all, the parade that is KPOP Sexy Cover Dancing never stops!!
BodhiCat Talk covers the wide world of Sexy Cover dancing.  Even though Hadam is back, other groups are hot to show her she ain't got nothing on them!
Part 7
IT'S OFFICIAL: KOREAN WEB SITE REPORTS HADAM IS IN LAYSHA!
A Korean website reported this morning (Korean time) that as of March 1 Hadam is officially a new member of Laysha.  It did not mention Som, who claimed a few days ago that she was back with a hashtag to that effect.  
Hadam = Laysha. She is officially announced. Ain't nobody gonna stop me now…..(But why isn't she on Laysha TV yet?)
While we doubt Hadam will go "commando" again, that memory of the girl who went where no one goes will always be a part of her greatness.  She had the guts to lead her group to greatness by taking a dare.
Ironically, the group she is in now also had (or has) a member who has a TON of fearless & also blew our minds one night!
Luuuv those fearless Cover queens!
FLY WITH ME KEEPS IT HOT IN BLACK LEATHER & WITH GREAT STYLE
Shasa & the #3 ranked team make their statement during this all-Hadam all-the-time week with a hot cover of "Taki Taki."  The rumble is that Laysha might go the way of Bambino 2.0 which means less sex but more powerful dancing. 
Well, it collapsed the Binos & one thang we know for sure is FWM ain't gonna go I-Dull soft for no damn body! 
"You want clubby hot KPOP Sexy Cover Dancing with heels, leather & lots of grinding: come home to me," Shasa says.
Shasa & FWM know who they are! Hot, nasty, stylishly kinky & great dancers.
WHILE NUGUS STILL DREAM
If the new Laysha is way ahead of the monster teams Girl Crush & Fly with Me imagine how much the nugus have to work to get up to the rankings!
Nugu busker crush Star Fruit is out doing their thang  & showing some hot thcckk as they dream about being the next super group like Laysha or Fly.
OK. So you actually move your butt & hips to be Sexy Cover Dancer! They have the body & the look, but Star Fruit's beautiful leader has to actually dance! Someone call the choreo training police please!!
GOEUN & HADAM COME OUT HOT & MAKE HISTORY – AGAIN!!!
DAZZLING PERFORMANCE – THIS TIME WITH HADAM IN A LAYSHA-STYLE OUTFIT!!
The only secret to the success of Laysha is whether GoEun, who has been the undisputed leader of the team for almost five years can let go of her ego, step aside & realize that even though she is for sure the sexiest & most fappable woman ever to step on a Cover stage, she is second to its greatest performer EVER.
Hadam is now performing in front of her on solos & with her on the stage all night.  That may be almost too hard to believe, but you can already see the impact on everybody.
Hadam and GoEun blew-out & rocked a performance last night at Cheongju Politech, with Hadam showing herself as her dynamic, charismatic self again!! 
Hadam in Laysha clothes in a brand NEW performance!! (BodhiCat's grandfather will have a heart attack if he watches!! LOL)
GoEun also blew up the scene with her solo & performance.
Laysha easily reclaimed total dominance of KPOP Sexy Cover over Girl Crush, Fly with Me & Pocket Girls.
This "Miracle in March" continues & it is just starting!!!
More on Hadam's return, the pending rivalry within the group & why this is just so mind-blowing in our other post later.
March 2, 2019
HADAM RETURNS TO THE STAGE WITH LAYSHA!
YUENGNAM UNIVERSITY (남대) THE SITE OF RETURN OF KPOP COVER'S GREATEST DANCER
AND SHE SMOKED! (OF COURSE)
Hadam is back.  And not just back, but back with Laysha.  In a surprise performance, but with some signs earlier that it might be brewing, GoEun introduced the second solo of the night, after Hyeri slayed a cover of Blackpink.
Pharkil captured the Laysha concert & BodhiCat Talk writes about it here: 
Hadam Returns With Laysha!!! A BodhiCat Talk Exclusive – 하담 (Hadam)은 새로운 걸그룹을 만들고 완전 대박의 즉각적인 성공을 거두었습니다.
February 28 – March 4, 2019
CAPTAIN ROH: COVER'S COVER GIRL
Captain Roh of #7 ranked XOX is the most beautiful woman in Cover & one of the top 5 most beautiful women in all of KPOP.  #captainroh
When it comes to dancing there's no question that the Captain controls the seas.  
MORE STARS IN STRIPES
We posted a "stars in stripes" blog of girls who hypnotized us silly in stripes. Ya'll said we forgot Badkiz.  Sorry.
Hot.  But they flopped after showing a lot of early promise.  Doing it in stripes was a big winner for them one time though. 
For Jini of #5 Rose Queen, though, it was an outfit no one wore better.
BO YOUNG – STARTED WITH "NEW THANG" ENDED IN DUNKIN' DONUTS
이번 시리즈는 최고의 카버댄서들에 관한것입니다. 여지껏중 뽑힌 최고의 댄서들입니다! Episode 2
Another Cover dancer who showed promise & had "Queen" written all over here – but went out fast – was the amazing Bo Young of I-REN.
She is our Iconic Queen blog this week.  Watch a cover of "New Thang" you will NOT believe!!
Iconic Sexy Cover Dance Queens: Bo Young – 이번 시리즈는 최고의 카버댄서들에 관한것입니다. 여지껏중 뽑힌 최고의 댄서들입니다! Episode 2
February 23-28, 2019
SEIHEE LEAVES GIRL CRUSH!
After 3 years of sizzling performances & leading her group from good to great – with a #1 ranking & dominance over the great Laysha – Seihee announced that she has left her DAM Entertainment-backed Girl Crush group. 
So long to 2018's Body of the Year.
The good news – great news – is that a really super-hot looking model named Yona (not the AOE Yuna, but just as hot) is going to replace her. 
What do we know right now about Yona? We know that she is a noodle-sucking babe.
While BodhiCat Talk generally hates it when queens show us their meals & we have to watch them eating, if Yona dances & gives fan service like she sucks those thcck noodles – we are in for a treat as G-Crush 2.0 gets ready to ride a new Hallyu!
Are you as psyched as we are for the noodle-sucking new member of Girl Crush?  #stopsucking
DAM had a replacement for Seihee right away.  When you manage the #1 group & your two other groups are in chaos, you really do not want to blow things up.  But agencies do all the time.
The other good news here is that Seihee is NOT Hadam.  While Little Luv Seoah was wonderful & deserved to be called a queen, replacing Hadam was impossible.
But we predict Seihee will be forgotten if Yona rocks hard. 
Girl Crush was the #1 group & was seen as the sexiest & she was for sure famous because she was with them.  And she had Bomi to carry her reputation along. 
She gave us tons of pleasure & we hope that her new online project makes her a ton of $$$$$ Seihee dollars!  
Her 27,000 Instagram followers will keep following & so will we.
Just tell us to come on & where to blow!!
So long, Seihee, you earned your stripes!
AND DELICIOUS IS AS DELICIOUS DOES
Habin will never make our list of "Iconic Sexy Cover Dance Queens" but she has a special place in BodhiCat Talk world. She is constantly giving up the BBang we need whenever we get down & need a lift. 
Here is the #4 ranked group in new costumes that take a little bit from every costume style in Cover, but with Pocket Picker's booty, beauty & model legs attached.  Their look always brings it to another level of wig bust.
BODHICAT TALK'S NUGU TROLL PATROL
MAY QUEEN THEY AIN'T.
BUT NICE & THCCCK THEY IS
"Happiness" is a nice thang.  (And a good name for a group.) 
Happiness has a thccck girl with a nice ass trying to take our minds off the loss of May Queen, which is doing photoshoots snorting baking powder & selling fake medical gear & other useless bullshit. 
So thanks, B. Stone, for bringing us some real happiness.
IS THIS "COVER?"
Hmmm.  Here's a Chinese import product.  Definitely some Pocket Girls long legs!
The skirt may almost be "Cover." The legs & the tattoo work.  Her hot body makes a good case.  But the song (sounds like a Chinese supermarket's overhead muzak), the way she's singing it, the non-dance shuffle & the no fan service…..
NO.  Not "Cover." Sorry.
BODHICAT TALK'S NUGU TROLL PATROL:
THE STAR FRUIT WATCH
It's fun to watch the Fruit grow into a Star.
Star Fruit, who we have been reporting on is doing a strong series of busker events on the streets of Seoul. For sure they are "Cover" & following Bambino's footsteps doing Jay Park covers.
Their brunette is also nice.  Check them out on Pharkil & @bitcitu2011. They have a good chance to make the KPOP Sexy Cover Dance Top 10 Rankings this year.
February 13-17 2019
SOM IS FINISHED?
Iconic KPOP Sexy Cover star Som, who was sidelined with a mysterious illness is reported to be healing & doing light workouts.  No one is 100% sure if she is still in Laysha & there are reports that she is being replaced.
She definitely was betrayed by someone, according to her posts.
"Hot when I'm dancin'!!" The amazing beauty of Som on display doing a cover of "Emergency." Best friends with Eunsol she has a cult like following & is among KPOP's elite.
Read this blog & comment.
February 3-7, 2019
STAR FRUIT: REPLACES MAY QUEEN ON THE BODHI CAT TALK NUGU TROLL PATROL
Sieun (of May Queen) is posting lame pics by a second-rate photographer & Hayeon (who now has possession of "Happy Endings") is doing, what?? Promoting a medical massaging device last time we looked!
But is it COVER, Hayeon?  It covers part of her chubby cute tummy.  But is the former May Queen star really going to get a happy ending? Or just a nice belly rub with that thang? We miss you, girl! 
The duo that was tearing up cover & getting fanboys as whipped up as early Bambino almost is definitely not wowing us with "Cover" style action.
But the BodhiCat Talk hunt for new thrills never stops. 
Thcck is the flavor of early 2019 & so we are going back to our girls at Star Fruit. Not much is known about them.  They are in the busker category still but Phark is on them – and that's good for us. The Bitcity boys 비트시티 have them in their sights too.
Star Fruit gives a very decent cover of "Mommae." She has a growing & drooling fan base.
January 29 – 30, 2019
SHASA SHOWS HER SPEED AT CAR SHOW!!
Hot Cars and Hotter Cover Dancers In High Gear – Shasa's High Speed Thrills. 이 그룹보다 무대위에서 에너지가 넘치는 그룹은 없읍니다.
#surferslife @Mis_bless
MAY QUEEN DISBANDS
Even though we are stanning them like crazeee, we are not totally shocked that May Queen has or is about to fold.  They didn't have a professional approach to Cover.  Their dancing was weak, their choreo had zero imagination & their fan service was less than zero.  But they are beautiful, have a unique, sexy thcck look & had moments in sweaters doing boob pops  & other hot dances that were way too much.
But you have to be consistent to be great in Cover!  See Bambino, Laysha, Fly with Me & Pocket Girls for details. May Queen always had that look like they were still practicing.
Despite that, 메이퀸 시은 Sieun looked unstoppable as a future Cover star.
Sieun is modeling & advertising products on her Instagram account.  We hope it is not true because they could have been a top 5 group & maybe better than Girl Crush.  But whatever.  We want them to do well whatever it is they do. 
IS THIS "COVER?"
Hell yeah!!! It may have been the "birth" of KPOP Sexy Cover. Cute & sexy Lee Hyori danced the provocative early booty shake dances in KPOP back in 2007!  The attitude was there.  It for sure is Cover!
Still hot & even before Waveya: Lee Hyori's confidence & fan service style – and that booty shaking stuff – for sure is "Cover."
It led to this by the bold ones….
January 17-20, 2019
THE FANCAM SCAM:
WAVEYA EARNINGS FROM YOU TUBING ARE $675,000
The fancammers who show up at gigs to shoot GoEun, Yubin, Bomi & the other hot upskirting bitches & auto show models have Cover groups convinced they are doing them a big, big favor. 
But guess who is making who rich AF?
In 2016, it was calculated that Waveya was making about $150,000 a year by having their own YouTube channel (Waveya2011) & doing their dancing in a studio, in front of a camera. They didn't need Pharkil or Chulwoo.
The average I-Dull in KPOP makes about $45,000.  Do the math.  Waveya found the formula that had eluded Cover teams like Bambino & Switch, whose stars literally left the business almost poorer than they got into it. 
It was just reported in the Korean press that Waveya's earnings are the fourth highest among KPOP YouTubers in Korea.  The twerking sisters grossed nearly $700,000 in 2018!! And think of this: because of some fierce slut-shaming from those Korean asshole viewers, Waveya actually took their YouTube channel down for most of March.
I have nothing but hatred for the guys who forced them to do that.  These are the same piece of shit Korean fans who had Eunsol in tears & forced Hadam into an almost hermit-like retirement.  Fuck Korean men & women who slut-shame their own talent.  They deserve nothing but the crap they get from us & the lousy entertainment they get from those tedious I-Dulls.  
Snap you stud bitches! Every 300,000 views is cash in your hot little back pockets! Waveya outearns the average doctor & those loser slut-shamers living with their parents & jerking off at night to this.
January 12, 2017 – (Original Post)
 HADAM FIRED FROM BAMBINO
A BODHICAT TALK EXCLUSIVE
(Original Post Date: January 12, 2017) – JS Entertainment will not put out an "official" statement on the status of their leader and most popular member Hadam.  They told us, effectively, that "you will see" what is going on "soon."  
So far they have lied and been silent.
We have been in touch with Soompi and KCON to see what they know.  We'll have more on that over the next few days.
But it is clear that Hadam was dismissed.  She was pushed by Dahee and Eunsol, who wanted to see Bambino moving further into the mainstream of "cute," EXID-type stuff; while Hadam wanted the group to stay edgy, and keep pushing their sexy image through more innovative hot but well-choreographed dancing.  This is their unique category, as most fans know.
She felt that going head-to-head with Idol groups that people had not shamed and that can really sing would be hard.  She wanted to keep her male fans happy but also keep "defeating" Idols in sheer numbers and popularity without going onto their turf directly.  Bambino is unique.  Why change gears and try to be like Sistar?  But evidently someone at JS Entertainment felt differently.   (We agree with Hadam, BTW.  Keep Bambino as Bambino!)
Hadam may also be the problem
Although someone who met her (at his mother's restaurant after a festival performance) said she was the nicest of them all and a real "pleaser," Hadam is said to have been "difficult" to work with in a studio; a fanatical perfectionist, always bitching about money, very high-strung and she refused to promote herself the right way as a star.  Despite her brilliance on the stage (and her charisma is compared to Hyuna's whom she just "defeated" in a one-on-one fantasy match-up.  See below), her abilities in interviews and with the press are very limited. Ironically, her instincts on a stage are amazing, while her ability to do interviews one-on-one are zero.
"Look at her Instagram posts lately," said a PR exec here in LA.  "It is like she isn't extraordinary or sexual – or has zillions of fans. Weird.  This woman single-handedly changed the KPOP Sexy Cover Dancing category.  She is bold and a great dancer.  But her public image is nowhere near Hyuna or Eunsol.  In a way it's her fault."
Others say she is quite happy just to be wildly popular now and does not need anything else except a place to dance.
"She dislikes that part of the business," and is "very private about her life," said our Korean contact.
"She's also flaky.  A typical artist," said a festival manager in Suwon. "But she made our crowds rock and roar with just a few dance moves and her onstage personality.  It was very exciting!"
Where that leaves us is nowhere.  Where it leaves her regarding her career is hard to say.  She wanted to burn bridges and "go where no one had gone before."  She said that and she went there.
"We are not EXID.  We are better performers by far than EXID," she once said.
Certainly this is a woman who could dominate any stage, audience or group.
BodhiCat Talk doesn't want to be doing this type of reporting.  We just want to have fun and stan.  But now we want to get a longer interview with her to get into her head.  So far she has only sent a few non-descript emails back to us which say very little.
Hadam's departure from Bambino is the big story of the year.  Hadam being dismissed – but still a member of Bambino technically until her contract expires – will tell us a lot about where "sexy concept" dance cover groups go in 2017.
One thing for sure is that Korean fans know Hadam is 그녀는 KPOP 커버 춤 역사상 최고의 퍼포머입니다.
Peace Ya'll. 
And remember to save our oceans & think about them in between watching Bambino share their talent, twerks & amazing stuff with us. You &  Everyone need to live in a cleaner world & I need to surf in the seas.  –BodhiCat